When I went to Italy to see where my family came to America from, I realized how popular lemons are in Italian culture. Lemons are probably the most famous fruit in Italy, if you don't also count olives! A popular way to enjoy lemons is in Italian Lemonade, or limonata. This recipe for Italian lemon soda, or limonata, is the homemade soda recipe you never knew you always needed, especially if you were a fan of sour lemon candies as a kid.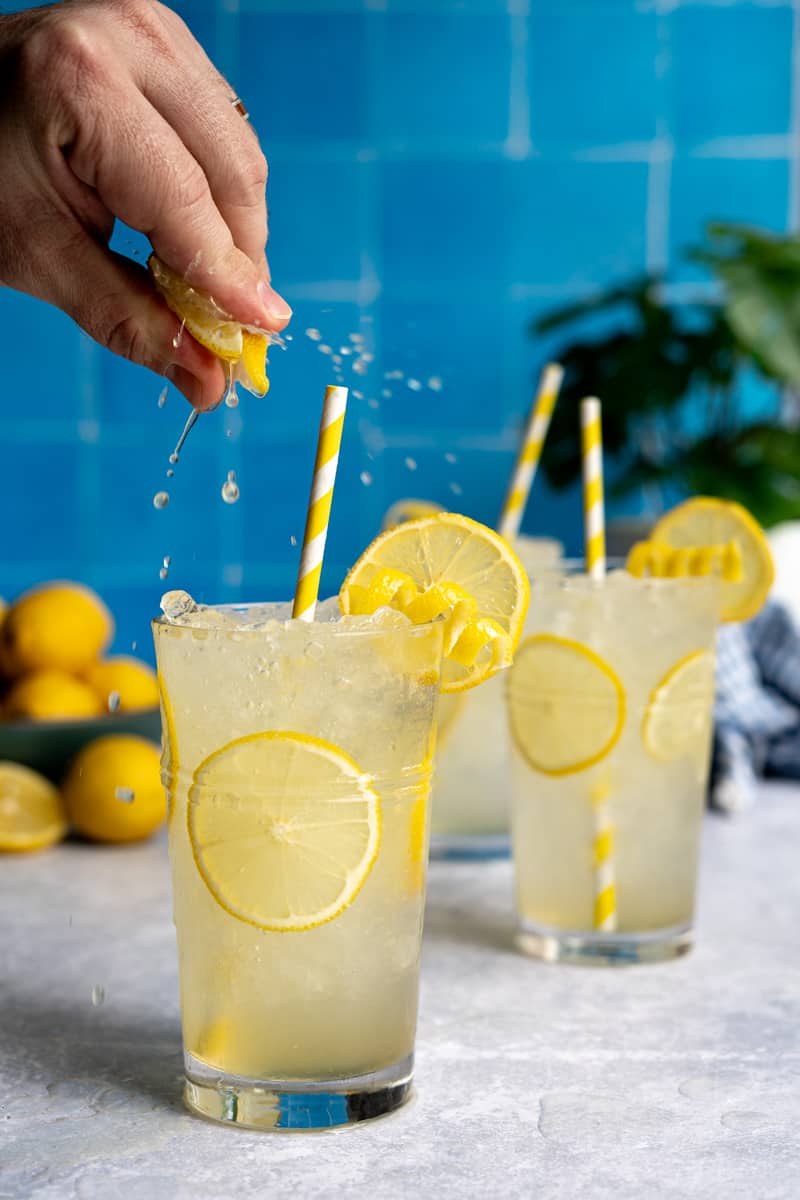 Inspired by my lemon simple syrup, it's the perfect balance of sweet and tart, and the bubbles make it more fun than regular lemonade. You can also use this lemon soda to make a limoncello spritz when the weekend hits! This lemon soda is a quick and easy way to enjoy the flavor of lemons all day long!
Jump to Recipe
Jump to:
💕 why you'll love this Italian lemon soda recipe
🍋 zesty & refreshing. If you're a fan of lemonade, you're going to love this homemade lemon soda pop!
🥳 party perfect. This recipe is a great option to be made in a large batch because it's easily scaled up or down.
☀️ bubbly & bright. Limonata is Italy's answer to lemonade, made with bubbly, effervescent sparkling water instead of still water, which makes it so much more fun!
🛒 ingredients
lemon simple syrup - lemon simple syrup is the secret ingredient in this lemon soda! It's the perfect balance of sweet, tart, and tangy! Luckily, you can whip up a batch of your own homemade simple syrup using my recipe right here!

lemons - I recommend using organic lemons whenever possible for recipes like this, where you'll be using the whole lemon as a garnish or ingredient. You can read more about this choice in the "food safety" section of this recipe post, located at the bottom of the page. This recipe uses conventional lemons, but if you have access to other varieties like meyer lemons, they would also work well in this recipe!

soda water - this recipe calls for plain unflavored soda water, which is carbonated water. Sparkling mineral water has the addition of minerals, as the name suggests, which impact the taste of the water as well. In order to keep the flavor focus on the lemons in the recipe, I recommend sticking with unflavored soda water, or regular unflavored sparkling water.

ice - you'll need plenty of ice to keep this beverage frosty cold! I know it's a little bit extra…but I get excited about ice. Luckily, I don't think I'm alone from the looks of IceTok on TikTok. You can use the ice from your freezer, or you can get fancy and make specialty ice cubes. Check out some of my favorite ice cube trays here, and of course, I would be remiss if I didn't mention my intense love of our Opal Ice maker from GE. 😍 Seriously…it's a game-changer.
See recipe card for quantities.
🫧 All about bubbly water
All bubbles are not created equal, in fact, some are put in after manufacturing and some occur naturally! Here is a quick breakdown of the kinds of carbonated beverages available.
seltzer water aka soda water aka sparkling water - unflavored water with carbonation added. No minerals are added, so the flavor profile is clean and pure. Sometimes called sparkling water, or soda water, and can be used interchangeably in any recipe noting either name.

sparkling mineral water - usually naturally carbonated from the source of the water, like springs or wells. They also naturally contain minerals, which affect the flavor based on the mineral content. Sparkling mineral water is not interchangeable in recipes calling for seltzer water or sparkling water, because of the additional flavors added from the minerals.

club soda - water that has carbon dioxide added, then had minerals added. The minerals that are added depend on the manufacturer, and they can sometimes give the club soda a slightly salty flavor. This can be handy in sweeter drinks, or cocktails. Because the taste difference is slight, club soda can usually be used interchangeably in recipes calling for soda water, sparkling water, or seltzer.

tonic water - water that is carbonated and then has minerals added, with the most notable being quinine (pronounced kwai-nine). Quinine has a bitter flavor, so some brands of tonic water also add sugar or syrups to their beverages. Tonic is not interchangeable for soda water, seltzer, or club soda.
🍳 instructions
Step 1: Fill your preferred glass halfway with ice.
Step 2: Layer lemon slices against the wall of the glass, as a garnish.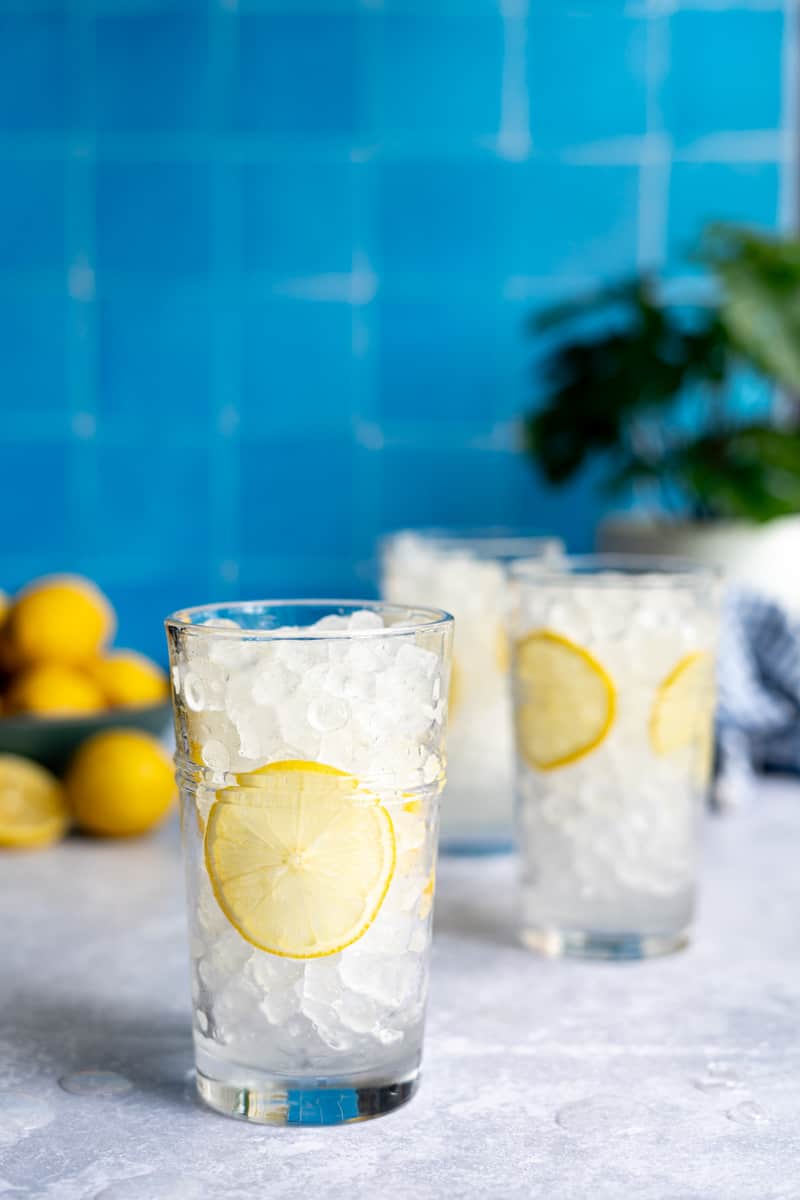 Step 3: Fill the remaining half of the glass with ice.
Step 4: Add 1 ounce of lemon simple syrup to the glass.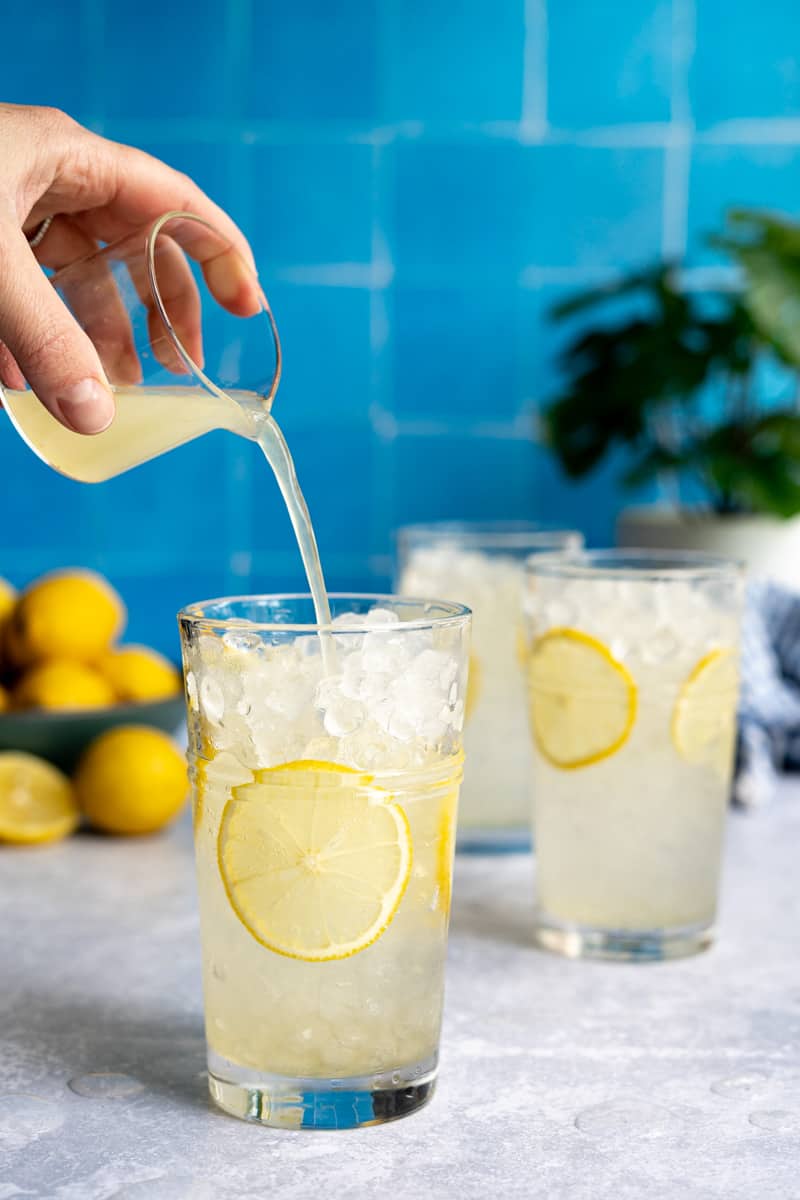 Step 5: Layer in ½ to 1 ounce of fresh squeezed lemon juice to the glass on top of the lemon syrup.
Step 6: Fill the remainder of the glass with sparkling water.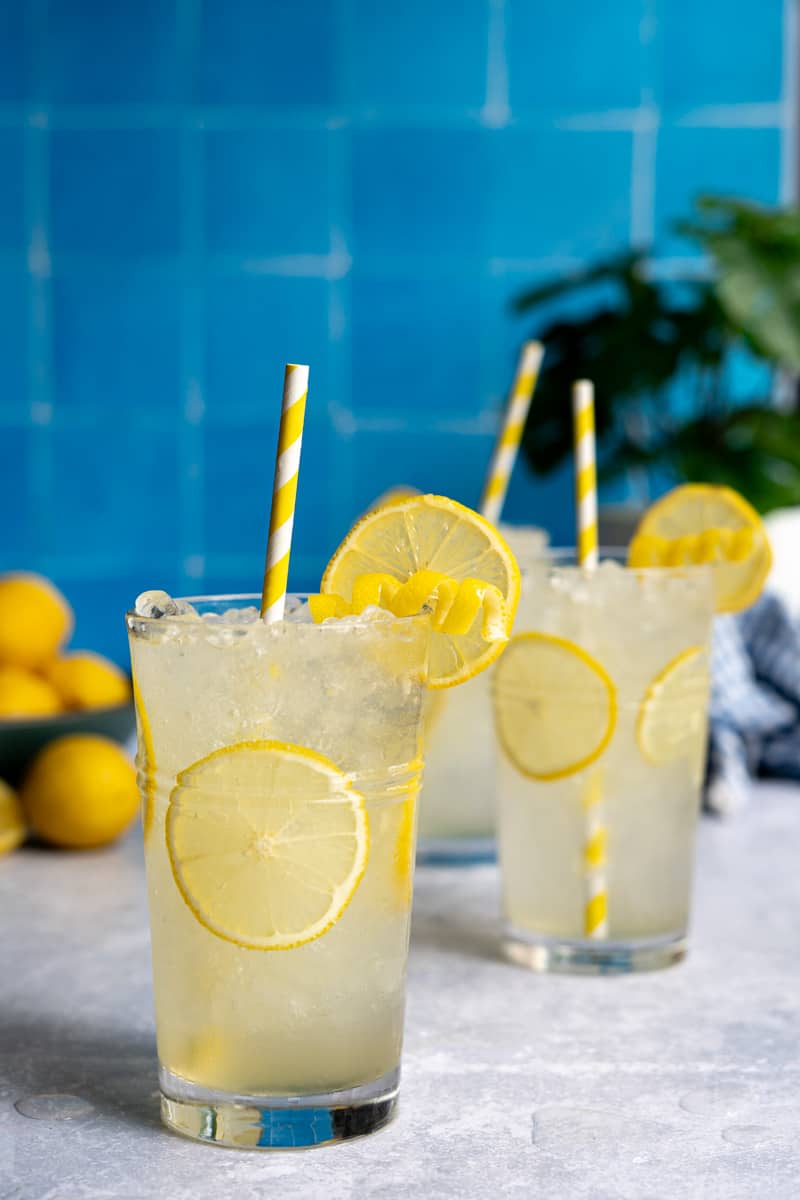 Step 7: Garnish with a slice of lemon, a twisted slice of lemon zest, or both!
Hint: Best enjoyed immediately after making, to preserve the bubbles!
Want more seasonal entertaining ideas? Subscribe to the mailing list below!
💡 tips and tricks for getting it right
🍽️ Serving Tips - This Italian lemon soda is perfect for a spring or summer day, poolside or at the beach! You can prepare the base in a portable pitcher and bring cans of sparkling water to make on-site. It's also a great mocktail to serve alongside limoncello spritzes at brunch!

ℹ️ Troubleshooting Tips - Citrus can vary wildly in flavor, so it can sometimes be hard to say how much juice you should use in a recipe. If your beverage is bitter, add more sugar a little at a time until things even out. The general rule is to taste as you go, and start with half the amount and increase from there. I've tested this recipe several times using a variety of lemons, and this is the ratio I've found to work best.

⚖️ Scaling Tips - This recipe can easily be doubled or tripled for a party! If you are making it for a gathering, I suggest juicing a few lemons first so you have all the ingredients on hand. You can mix the lemon simple syrup and the lemon juice first, and then add the sparkling water just before serving to keep the beverage as bubbly as possible.
🔆 top tip
If you are preparing your lemon simple syrup at the same time you want to make these beverages, make the syrup first to allow it to cool slightly before making these drinks.
♻️ substitutions
Missing an ingredient? No problem. 💅🏻 Check out these tried-and-true substitutions, or comment below with your question. I'm here to help you troubleshoot!
sugar - if you don't have lemon simple syrup on hand, you can use 1 tablespoon of sugar mixed with 1 tablespoon of lemon juice, then proceed as directed with the recipe.

store-bought syrup - you can use store-bought lemon syrup instead of homemade if you like.
🎛️ variations
Feeling like a rebel?! 😈 Feel free to stray from the recipe card using these variations, or leave me a comment with your own!
citrus - you can experiment with different citrus flavors to mix up this recipe. Try it with oranges, limes, or grapefruit!

minty - fresh mint is the perfect garnish or addition to this lemon soda, especially during summertime!

herby - add a few sprigs of rosemary or basil for an herbaceous twist on this lemon soda!
🧰 equipment needed
🫙 storage tips
This lemon soda is best enjoyed right after it's made, so it doesn't store well.
If you must make it in advance, be sure to store it in a bottle with a stopper, like these bottles from Bormioli Rocco. The ingredients don't hold up well to storage for more than 24 hours.
💬 q+a
What is the difference between limonata and lemon soda?
Lemon soda doesn't usually have lemon juice added to it, just lemon simple syrup. The addition of lemon juice gives this soda an even more lemony flavor!
Is limonata the same as lemonade?
Limonata is an Italian lemonade, and it is traditionally served using sparkling water. American lemonade is traditionally served using still water, so this version is basically lemonade with bubbles!
What does limonata mean?
Limonata translates from Italian to English to mean "lemonade."
Do I need to use lemon simple syrup to make this recipe?
Yes, lemon simple syrup is really what gives this recipe its wonderfully tart and zingy lemon flavor!

If you don't have the lemon simple syrup on hand, you can mix up a glass by using 1-2 tablespoon of sugar, the zest of ½ a lemon, and the juice of 1 whole lemon for each glass of sparkling water.
Is there caffeine in this Italian lemon soda?
No, there is no caffeine in this soda because it is made with sparkling water.
📌 pin this recipe for later!
🍽️ recipe
If you make this recipe, please leave a review in the comments and a star rating!
⭐️⭐️⭐️⭐️⭐️
I read every single comment! I also love connecting on social media, so snap a pic and hashtag it #myrecipeforfun and tag me on Instagram, TikTok, or pin this recipe on Pinterest!
🥣 recipe
Italian Lemon Soda (Limonata)
This bubbly and refreshing beverage is Italy's take on lemonade! It's full of bright and zesty lemon flavor!
Print
Pin
Rate
Ingredients
1

ounce

lemon simple syrup

1

ounce

lemon juice, fresh

use 0.5 - 1 ounce, depending on preference

6

ounces

sparkling water

can substitute seltzer, soda water, or club soda

ice

to fill glass

1

lemon

sliced, used as a garnish
Instructions
Fill your preferred glass halfway with ice.

Layer lemon slices against the wall of the glass, as a garnish.

Fill the remaining half of the glass with ice.

Add 1 ounce of lemon simple syrup to the glass.

Layer in ½ to 1 ounce of fresh squeezed lemon juice, depending on how tart you want your soda, to the glass on top of the lemon syrup.

Fill the remainder of the glass with sparkling water.

Garnish with a slice of lemon, a twisted slice of lemon zest, or both!

Best enjoyed immediately after making, to preserve the bubbles!
Nutrition
Nutrition Facts
Italian Lemon Soda (Limonata)
Amount per Serving
% Daily Value*
* Percent Daily Values are based on a 2000 calorie diet.
🧯food safety
Food safety is an important ingredient in any recipe for success! Here are some tips to keep you safe in the kitchen!
If you are planning to store this soda in a bottle with a stopper, be careful when opening the bottle. Carbonation can cause the contents to erupt if shaken excessively.

Use caution when slicing lemons. Always practice proper knife safety and make sure your cutlery is properly sharpened. It may sound counterintuitive, but dull knives are more dangerous than sharp knives. Check out some knife safety tips here.

Organic produce is grown without the use of synthetic chemical pesticides. This is important to consider when you are using parts of the lemons like the peel, which is notorious for its exposure to pesticides. This study divulges information about the pesticides used and found in lemons, specifically in Turkey. Whenever you are able to, purchase local and organic produce to minimize your exposure to synthetic pesticides.

Organic does not mean pesticide free. It simply means there is no use of synthetic pesticides. You can read more about the use of pesticides in organic farming in this article here, which busts several popular myths of organic produce. Ultimately, it is up to YOU to decide what you are most comfortable eating. 😊