One of the biggest lessons I learned in culinary school was the importance of understanding and using flavor. It's a true skill to be able to know what flavors work well with other flavors, especially when dealing with bolder flavor profiles like herbs and spices. Rosemary is one of those herbs that can take over anything it touches, but when balanced with complementary flavors it can truly create magic. 🪄 This rosemary simple syrup recipe creates a flavor packed syrup that screams ROSEMARY!!! It's perfect for adding a little something extra to all of your cocktails, mocktails, and more any time of year, but even more so during the holidays. 😌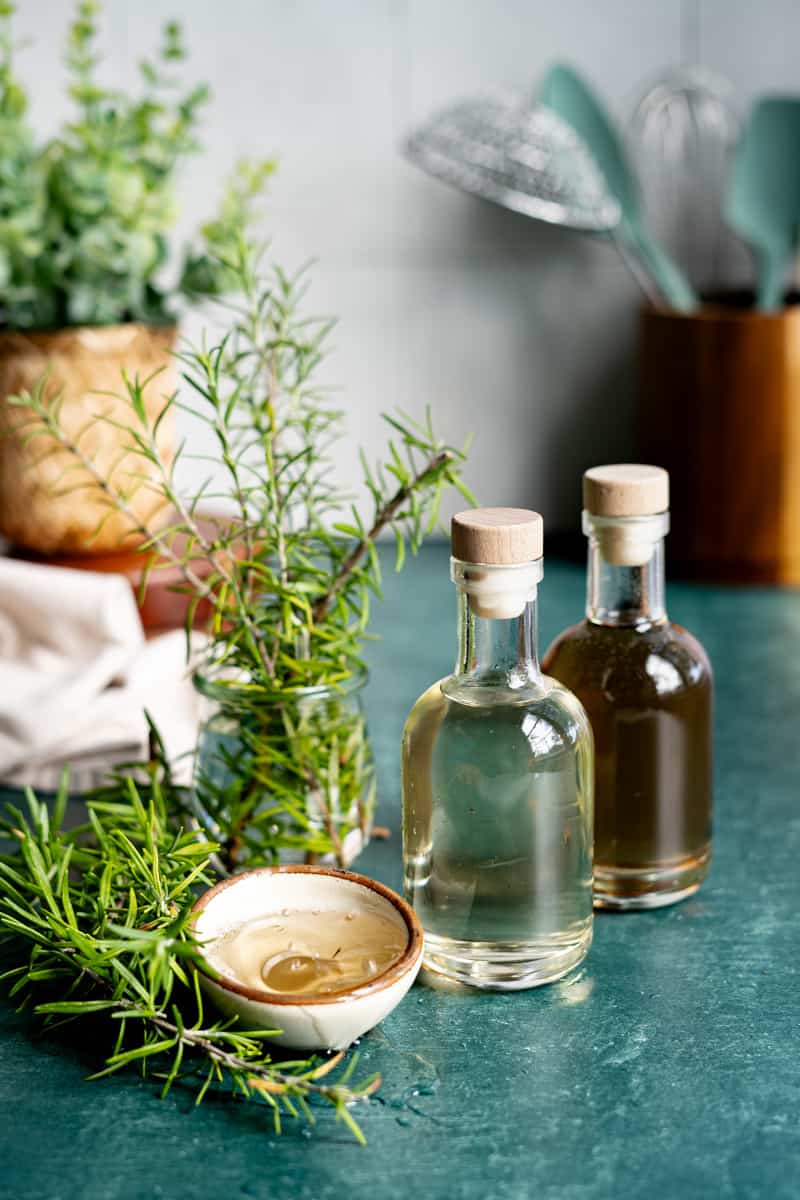 This recipe was inspired by my yule mule, which is a cranberry holiday mule featuring festive flavors of cranberry, ginger, and rosemary. Most of the time, when cocktails have a rosemary garnish there really isn't any actual rosemary in the drink. This simple syrup is here to change all that. 😏 It's an easy way to feature the flavor of fresh rosemary in any drink of your choice!
Jump to Recipe
Jump to:
💕 why you'll love this rosemary simple syrup recipe
🌿 bold & herbaceous. Rosemary is a loud and proud flavor that takes center stage. This fragrant syrup is the perfect way to incorporate the beloved woodsy flavor of rosemary into any beverage.
🙌 inventive & unique. Most people love cooking with rosemary, but it's more rare to see rosemary grace a cocktail menu, aside from using it as a garnish..
🎄 festive & seasonal. While rosemary is usually known as a spring and summer herb, it grows year-round in warmer climates and it's traditionally associated with winter. It doesn't hurt that it looks similar to a Christmas tree!
🛒 ingredients
rosemary - this recipe calls for fresh rosemary sprigs, and it's important to use them in place of dried rosemary. Most herbs and spices that you can purchase at your local grocery store in the spice aisle have been on shelves for years, so they lack potent flavor. Fresh rosemary is bright, vibrant, and pungent. It packs a potency that is difficult to match when compared to dried rosemary. Rosemary is a great plant to grow in an herb garden. But, if you don't have a green thumb, you can usually find fresh rosemary sold in plastic clamshells in the produce section of your local grocery store.

granulated sugar - plain white sugar is my go-to choice for most simple syrup infusions because of its light and clean flavor profile. You can use a darker, less refined sugar if you choose, but just know it will impact the final flavor. Granulated cane sugar keeps the flavor of the aromatic rosemary the star of the show!

filtered water - use pure filtered water in this recipe to make sure the flavor of the rosemary is front and center!
See the recipe card for quantities.
🍳 instructions
Step 1: Give your rosemary sprigs a quick rinse and gently pat them dry.
Step 2: Pour 237 g of water into a small saucepan and heat it over medium heat.
Step 3: Add in 200g of granulated sugar and stir it until it dissolves.
Step 4: Once the sugar dissolves, lower the heat to barely a simmer. Add in the rosemary sprigs and allow them to steep for at least 15 minutes, but up to 30.
Step 5: Remove the pan from heat, and carefully strain out the rosemary sprigs. If your syrup has specks of rosemary in it, you can strain it through cheesecloth to remove them.
Step 6: Allow your syrup to cool to room temperature. Store your cooled syrup in an airtight storage container for up to two weeks in the fridge.
Hint: Leave your rosemary on the stem so it's easier to strain out the whole sprigs when you're done infusing the syrup!
You may want to double-strain your syrup through cheesecloth and a fine mesh strainer to make sure to remove all the tiny bits and pieces. This is especially a good idea if you picked your rosemary fresh from your garden!
🍽️ serving tips
Cocktails
This rosemary syrup is perfect for your favorite cocktails! Use it in any cocktail recipe that calls for classic simple syrup for an easy way to add fresh rosemary flavor to your drinks. You can also use it in specially crafted cocktails that feature the flavor of rosemary, like:
yule mule - use this pumpkin spice simple syrup to whip up a ginger-forward pumpkin mule!
rosemary appletini - rosemary simple syrup + apple vodka + apple juice = your new favorite fall martini.
rosemary old-fashioned - use this simple syrup in place of sugar in a classic old-fashioned recipe!
Non-Alcoholic Beverages
This syrup is also great for making rosemary mocktails and other non-alcoholic drinks! Here are some ideas to get you going:
rosemary lemonade - use this rosemary syrup in place of the sugar of your lemonade (or limeade!) recipe for a delightfully herby beverage!
sparkling rosemary cider- add some rosemary simple syrup to sparking apple cider for a fall or winter mocktail!
rosemary iced tea - this is a perfect syrup for tea! Add it to your hot or iced tea for a unique beverage any rosemary lover will go crazy for!
Cooking, Baking & Gifting
This syrup is also great for baking and gifting, especially during the holiday season!
baking - Brush this simple syrup over layer cakes or muffins. It would be divine brushed over an olive oil cake!
roasted nuts - drizzle this syrup over cashews or almonds and roast them for a delicious snack!
gifting - Make a double or triple batch and gift it to family and friends in these adorable 8.5 ounce glass bottles.
ℹ️ troubleshooting tips
Yes, I know we are making a SIMPLE syrup, but things can still go wrong in any recipe! Try these troubleshooting tips if your rosemary simple syrup doesn't taste quite right.
too herbal - rosemary is a super strong flavor, so if you find that your syrup is TOO strong in rosemary flavor, you can dilute it by adding in more water and sugar to essentially double the batch of syrup and cut the amount of rosemary in half. This is a great trick when you've already made the syrup, but the flavor is much too strong for your liking.

not strong enough - if your syrup isn't strong enough in flavor, allow it to simmer longer to really intensify the rosemary flavor.
When you put your rosemary into the syrup at first, it will be bright and vibrant. It will lose its color as you infuse it, which is okay!
The longer you let your syrup infuse, the stronger the flavor will be!
⚖️ Scaling Tips
You can make a double batch of this syrup, and you can also cut it in half if you only want to make a little! If you make a full batch, try gifting a little to family and friends, or freezing it for later.
🔆 top tip
For a milder flavor, steep your rosemary sprigs for less time. For a more intense flavor, steep them for longer!
♻️ substitutions & variations
♻️ substitutions
Missing an ingredient? No problem. Check out these tried-and-true substitutions, or comment below with your question. I'm here to help you troubleshoot!
sugar - you can use whatever sugar you have on hand, but it will affect the flavor of the finished syrup. A less refined sugar or darker sugar (like brown sugar) will have a deeper, caramelized flavor added to it, which can be lovely!

maple syrup, agave, or honey - You can also use maple syrup or honey if you prefer. As a general rule, use ¼ - ⅛ cup less honey than granulated sugar because honey is typically sweeter than sugar. So, start by using ¾ cup of honey or maple syrup, then taste your syrup and adjust as needed!
🎛️ variations
Feeling like a rebel?! 😈 Feel free to stray from the recipe card using these variations, or leave me a comment with your own!
different herb - you can use any fresh herbs you like to make an infused simple syrup! Basil simple syrup is a wonderful way to add herbaceous flavor, as is mint simple syrup! Sage simple syrup is another fantastic and unique syrup for beverages!

add citrus - add in lemon juice or zest, or lime or orange juice to give your syrup a bit of a citrus zing! Rosemary also goes wonderfully with the flavor of grapefruit!

add fruit or berries - you can combine the flavors of fruits like cranberries or apples for a delicious way to customize this rosemary syrup!

rich syrup - using a ratio of 2:1 for sugar to water instead of equal parts sugar and water will create a rich syrup, which is thicker and sweeter than traditional simple syrup. Some bartenders and mixologists prefer rich syrups because they pack a more potent flavor.
🧐 what is a rich syrup?
A rich syrup is a syrup that has a higher sugar content than water content. Because of the higher sugar content, it stays fresher for a bit longer in the fridge.
Simple syrup has a 1:1 ratio of sugar to water.
Rich syrup has a 2:1 ratio of sugar to water, so if you use 1 cup of sugar, use ½ cup of water.
This will change the ratio of sugar to water, meaning if you want to freeze the syrup for longer storage, it won't freeze completely solid. This can be useful for quickly defrosting the syrup, though! If you want to freeze rich syrup, opt to use a bottle over ice cube trays because things will get sticky.
🧰 equipment needed & storage tips
🧰 tools needed
🫙 storage tips
This simple syrup will last you up to two weeks when stored properly in the refrigerator. You can also freeze it for longer-term storage! I love storing it in the freezer in a squeeze bottle or ice cube trays for easy melting.
💬 q+a
What does rosemary taste like?
Rosemary has a strong flavor that is described as woody, piney, and pungent. It has a bright and loud flavor profile that is milder in the winter and stronger in the summer months. It has also been compared to citrus, and can be a bit peppery in flavor as well.
Can I infuse store bought simple syrup with rosemary?
Yes! You can simmer store-bought syrup for 15-30 minutes with rosemary sprigs.
How can I use rosemary simple syrup?
Use this syrup in any beverage that you want to infuse with rosemary flavor! It works wonderfully in cocktails, mocktails, and even tea! You can also use it to brush cakes or as a glaze for pastries.
📌 pin this recipe for later!
If you make this recipe, please leave a review in the comments and a star rating!
⭐️⭐️⭐️⭐️⭐️
I read every single comment! I also love connecting on social media, so snap a pic and hashtag it #myrecipeforfun and tag me on Instagram, TikTok, or pin this recipe on Pinterest!
🥣 recipe
Rosemary Simple Syrup
This rosemary simple syrup is perfect for adding a little something extra to all of your cocktails, mocktails, and more any time of year, but even more so during the holidays.
Print
Pin
Rate
Equipment
1 spatula or spoon

1 pair of tongs

optional, for removing sprigs of rosemary from syrup
Ingredients
10

g

rosemary sprigs

About 3 to 4 4-inch whole sprigs on the stem

200

g

sugar

1 cup

237

g

water

1 cup
Instructions
Rinse your rosemary sprigs and gently pat them dry.

Add 237g of water (1 cup) to a small saucepan and heat over medium-low heat.

Once the water is heated, add 200g sugar (1 cup) to the saucepan. Stir intermittently until dissolved, about 5 minutes.

Add in the whole, fresh rosemary sprigs and lower the heat to low while you infuse the syrup.

Allow the syrup to infuse for up to an hour, depending on how intensely flavor you want your syrup. Infuse it for 15 minutes for light flavor, 30 for medium flavor, and 60 minutes for intense flavor.

Once your syrup reaches your preferred flavor, take it off the heat and use a spoon or tongs to remove the sprigs of rosemary.

Allow the syrup to cool slightly before straining it through a fine mesh sieve and cheesecloth.

Store your finished syrup in an airtight storage bottle in the fridge for up to two weeks.
Nutrition
Nutrition Facts
Rosemary Simple Syrup
Amount per Serving
% Daily Value*
* Percent Daily Values are based on a 2000 calorie diet.
🧯food safety & other information
Food safety is an important ingredient in any recipe for success! Here are some tips to keep you safe in the kitchen!
While you can allow this syrup to sit at room temperature, don't leave it out for longer than 4 hours at a time. This helps to inhibit bacteria growth that can happen from the sugars in the syrup. Read more about the temperature danger zone here.

Use sterilized containers whenever possible. You can sterilize your containers by boiling them briefly, running them through your dishwasher with the sterilize feature activated, or pouring boiling water into the containers.

While you may be able to use your simple syrup longer than 2 weeks in the fridge, if you see any sort of cloudiness or dark spots in the syrup, throw it out. This is mold growth and is not a recipe for fun.

Never leave simmering syrup unattended on the stove.

If you use honey to make this syrup, avoid feeding it to children under the age of 1.