Since I've been making homemade simple syrups for over a decade, I've realized how wonderful homemade syrups are for customizing. Simple syrups are perfect for infusing with flavors so you can both sweeten and flavor any beverage. This cardamom simple syrup recipe is proof of that! This spice-infused syrup invites the warming flavor of fall into your life, any time of year!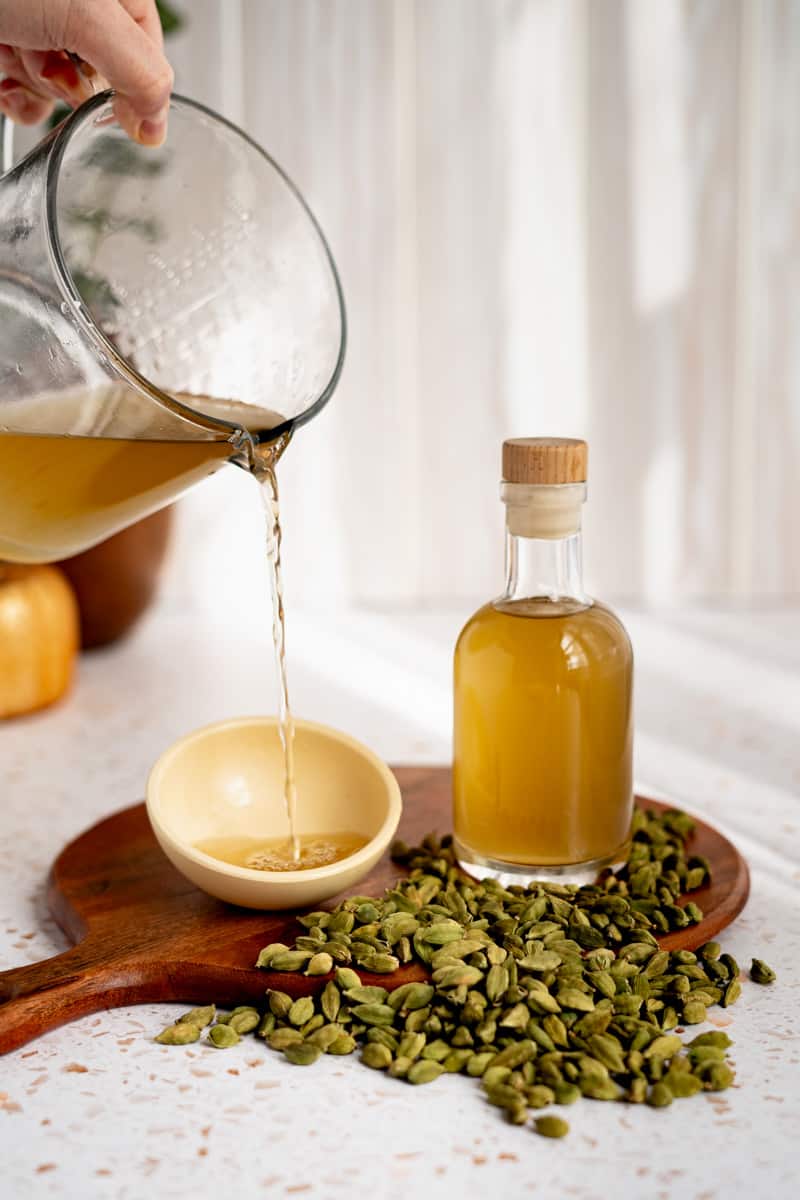 This recipe was inspired by my fall rum punch, which uses the warming flavors of this cardamom simple syrup to sweeten things up. Cardamom and pears are BFFs, and this simple syrup is a key ingredient in that cozy fall punch. It also works beautifully paired with coffee. Think of how luxurious your morning could be with a cardamom latte or iced cardamom coffee to start your day!
Jump to Recipe
Jump to:
💕 why you'll love this cardamom simple syrup recipe
🥰 warm & cozy. Cardamom brings a warming vibe to it, making this liquid sweetener perfect for using in beverages during cooler months.
🍭 bright & sweet. While cardamom is a warming spice, it also has notes of bright floral flavors. This makes it a wonderful sweetener for so many beverages, from cocktails to coffee!
⏱️ quick & easy. The best part about making homemade simple syrups is that it is a quick and easy way to customize so many other recipes. Whip up a batch and see where your imagination takes you!
🛒 ingredients
cardamom - this spice is part of the ginger family of plants, and it has a warm, bright, cozy flavor profile. This recipe uses whole green cardamom pods. I do not recommend using black cardamom pods because the flavor profile can be very different. Use the whole cardamom pods if you can find them. If you can only find ground cardamom, you can use that in a pinch. Just be sure to follow the recipe card instructions!

granulated sugar - regular ole granulated sugar will do the trick, but check out the section of this post on substitutions for other sugars you can use in this recipe. Darker sugars bring a toasty flavor, which is wonderful with this syrup!

filtered water - use filtered water (from your fridge or tap) for the best tasting homemade syrups. We aren't cooking things at a long-rolling boil, so its best to start with water that already has impurities removed.
See recipe card for quantities.
🌿 all about cardamom
Cardamom is one of the most expensive spices in the world. That's because it is very difficult to harvest. I love cardamom from Diaspora Co. because it's extremely fresh, fragrant, and potent! Check out their site for an amazing video on harvesting this spice. It's no wonder it's on par price-wise to vanilla and saffron! 🤯
Cardamom can be green or black, but the most popular variety is green. The color refers to the pods which house the seeds.
When using the spice at home, you can either use the whole pod, crush the pod and use the crushed pod and seeds, or crush and discard the pod using only the seeds. Experiment and see which flavor profile you prefer!
Black cardamom is usually used in savory recipes because it is slightly smokey and has notes of menthol. Black cardamom is usually dried over an open fire, leading to the smokey flavor.
Green cardamom is usually used in sweet dishes because it is bright, citrusy, and has a slight eucalyptus flavor. Some varieties of green cardamom can be even sweeter and almost floral.
Indian cardamom is considered some of the best (another reason I love choosing Diaspora Co.) but Guatemala is another large producer of the spice.
🍳 instructions
Step 1: Pour one water into a small saucepan and place it over medium heat.
Step 2: Add in one cup of sugar to the saucepan and continue to heat over medium heat, stirring occasionally until the sugar dissolves.
Step 3: While the sugar dissolves, gently crush the cardamom pods with a mortar and pestle, a rolling pin, or the blade of a chefs knife.
Step 4: Once the sugar is dissolved, add the crushed cardamom to the pan and allow it to simmer for up to 45 minutes.
Step 5: Turn the heat off and allow the cardamom to infuse the syrup for up to an hour.
Step 6: Once the syrup is infused, strain it through a fine mesh strainer to remove the cardamom seeds and crushed pods.
Step 7: Pour the cooled simple syrup into an airtight container for storage. Store it in the fridge or freeze for longer storage.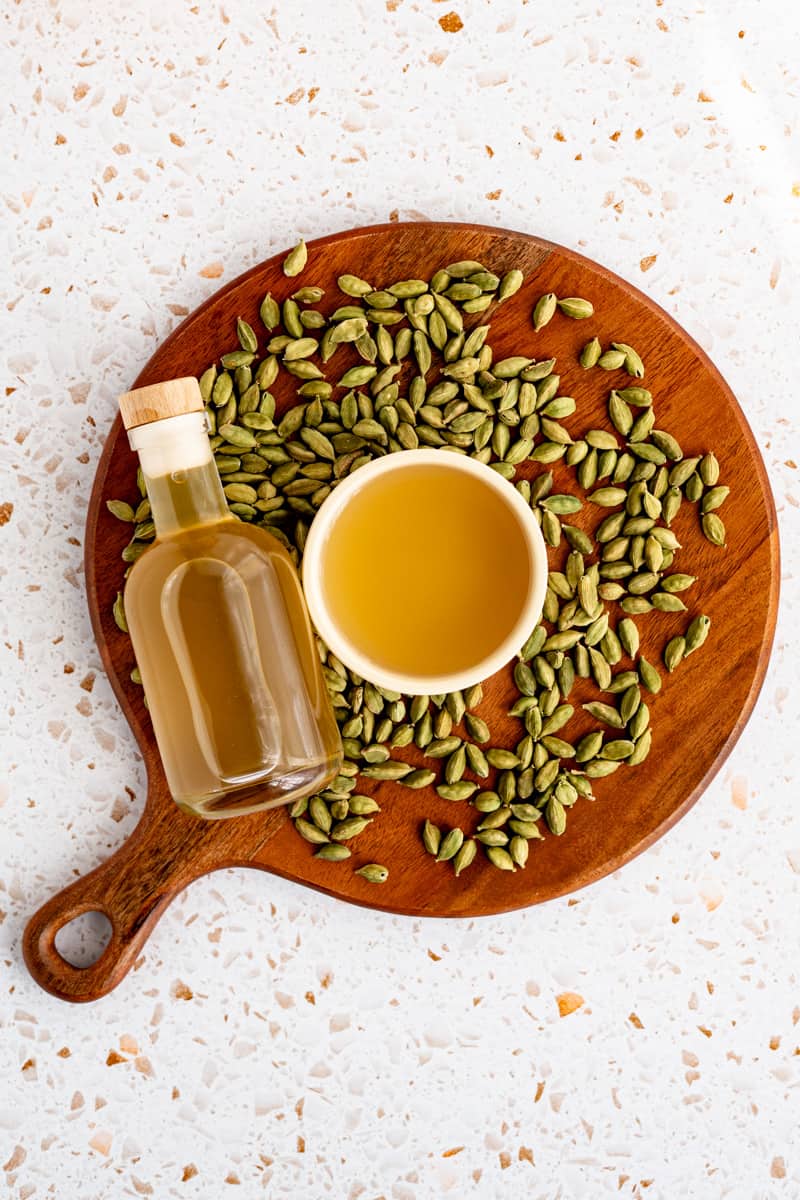 Step 8: Add the syrup to any beverage you like to sweeten it with bold cardamom flavor!
Hint: If you want a less strong cardamom flavor, do not crush the pods and instead infuse them whole.
🍽️ serving tips
It is best to use simple syrups in beverages because of their thin, easy-to-mix consistency. Many people out there on the internet will tell you that you can use your simple syrups on desserts and breakfast items. You can do whatever you want, you're your own person!!! But…the watery texture may disappoint you. 😣 Instead, use simple syrups to flavor your drinks and make thicker sauces for topping foods. Here are a few ideas for using your syrup:
Cocktails
fall rum punch - try using your cardamom syrup in this fall rum punch recipe. It features pear juice, a blend of rums, and citrus juice. It's perfect for an autumn gathering!
cardamom martinis - use this simple syrup in a pear or apple martini for a warm and spicy twist on a classic!
cardamom old fashioned - cardamom, orange, and whiskey mingle together to create a sensational and seasonal take on a classic cocktail.
Mocktails & More
Cardamom pairs perfectly with coffee! One of my favorite interior designers, Carmeon Hamilton, got me hooked on putting a sprinkling of cardamom in my cold brew coffee, especially in the autumn. Try it in these other zero-proof drinks!
hot or iced tea - cardamom partners so well with black or green tea! Add this syrup to your teas to sweeten them and impart them with warming cardamom flavor.
cardamom latte - add this simple syrup to the milk of your choice and pour it in your coffee, hot or iced!
cardamom lemonade - cardamom lemonade is similar to a beverage called sharbat. Sharbat is a popular drink in the Middle East that is usually fruity or floral and served over ice.
Cooking, Baking, & Gifting
baking - Brush this simple syrup over layer cakes, muffins, or loaf cakes for a deep cardamom pop of flavor.
shave ice - Use it as a shave ice topping for a seasonal spin. Top with whipped cream and cinnamon for a real treat!
homemade ice cream or sorbet - orange and cardamom play very well together—can you imagine these flavors in a homemade sorbet?!
gifting - Make a double or triple batch and gift it to family and friends in these adorable 8.5 ounce glass bottles.
ℹ️ troubleshooting tips
Things can go wrong in the kitchen, even though simple syrups are…simple to make. 😅 Check out these troubleshooting tips if you run into any issues.
not enough flavor - if you are using spices that are older, the flavor might not be as pungent. You can allow your mixture to steep for longer, or you can add a few more pods of crushed cardamom to the simmering liquid.
too much flavor - cardamom is a potent spice, so it is possible for your syrup to have a very bold flavor. If it's too much to handle, you can make another batch of plain simple syrup to mix with the finished syrup and dilute the cardamom flavor.
too thick - if you simmered your syrup for too long, you may have lost quite a bit of liquid. A rich simple syrup is one that is 2 parts sugar to 1 part water, instead of equal parts sugar and water. Rich syrups are still great for making drinks, but they may sink in beverages that aren't shaken well. To dilute your rich syrup, just add in a bit more water, one ounce at a time!
⚖️ Scaling Tips
This recipe is easily scaled up or down, depending on how much syrup you'll need. I sometimes like to make a double batch, because then I can pop a bottle into the freezer to keep for later.
🔆 top tip
The longer you allow your cardamom to infuse in the syrup, the stronger the flavor will be. Give your syrup a taste at several stages of the infusion process to see which flavor you prefer.
♻️ substitutions
Missing an ingredient? No problem. Check out these tried-and-true substitutions, or comment below with your question. I'm here to help you troubleshoot!
sugar - you can use a different sugar like brown sugar, demerara sugar, or even an unrefined sugar like jaggery!
ground cardamom - if you can't find whole cardamom pods near you, you can substitute using ground cardamom. Make sure to follow the instructions in the recipe card, because ground cardamom is stronger in flavor than whole pods that have been crushed. Typically, 1 teaspoon of ground cardamom is equivalent to about 10 whole pods.
🎛️ variations
Feeling like a rebel?! 😈 Feel free to stray from the recipe card using these variations, or leave me a comment with your own!
add more spices - add in a cinnamon stick, whole cloves, and a piece of fresh ginger for an even more seasonal take on this syrup! Vanilla cardamom syrup is another wonderful flavor combination!
orange - cardamom and orange work very well together! Add in the zest and juice of one orange to give this cardamom simple syrup a big boost of citrus flavor!
pear or apple - simmer your syrup with a chopped pear or apple for a fruity twist to this syrup!
floral - play up the floral notes of this cardamom syrup by adding a handful of rose petals and creating a cardamom rose simple syrup!
🧰 equipment needed
heavy-bottomed non-reactive saucepan - you can use whatever saucepan you have on hand, I love this 1.5-quart saucepan from All-Clad. The heavy bottom ensures even heating throughout the cooking time! A non-reactive pan is a pan that is made from a metal that doesn't react to acidic substances, like stainless steel or enameled cast iron.

non-reactive mesh strainer a fine mesh strainer helps you to separate the lime pulp and zest from the liquid after simmering the mixture. Make sure to use a fine-mesh strainer that is made of stainless steel, or use a nylon straining bag for this recipe.

airtight storage you can use any airtight container you like. These OXO squeeze bottles are a favorite of mine for storing simple syrups because you can also stash them in the freezer. These glass bottles are great for gifting simple syrups to friends and family. You can also use a mason jar!
measuring cups - if you don't have a kitchen scale, you'll likely need some measuring cups. I love using these glass measuring cups from Anchor Hocking because they can tolerate the quick temperature changes that happen when I'm making simple syrups.

kitchen scale - using a kitchen scale has so many benefits, from being more precise to helping you do less dishes! If you use a scale, you can simply put everything right in the pot as you measure it, no need to dirty up a bunch of extra dishes! I have and love this OXO kitchen scale.
🫙 storage tips
Store your simple syrup in an airtight bottle in the fridge for up to two weeks.
If you want to store your syrup for longer, you can freeze it for up to 3 months.
💬 q+a
What does cardamom taste like?
Green cardamom has a sweet, bright, floral taste that also tends to be warming in flavor. Depending on the kind of cardamom, it is also sometimes described as being similar to eucalyptus. Black cardamom is more savory and smokey, because of how it is harvested. Therefore, it is best to use green cardamom in sweet and savory foods, and only black cardamom in savory foods.
How can I use this cardamom simple syrup?
Use this cardamom simple syrup in any beverages you like, from cocktails to coffee. You can also use this simple syrup to keep baked goods moist, or to glaze pastries or tarts. It's also wonderful drizzled over fresh fruit in a fruit salad!
How long does this simple syrup last?
Most homemade simple syrups last for up to two weeks when stored in the fridge. If you want to store them for longer, you can stash them in the freezer for up to three months.
📌 pin this recipe for later!
If you make this recipe, please leave a review in the comments and a star rating!
⭐️⭐️⭐️⭐️⭐️
I read every single comment! I also love connecting on social media, so snap a pic and hashtag it #myrecipeforfun and tag me on Instagram, TikTok, or pin this recipe on Pinterest!
🥣 recipe
Cardamom Simple Syrup
This cardamom simple syrup invites the warming flavor of fall into your life, any time of year!
Print
Pin
Rate
Ingredients
20

g

cardamom pods

¼ cup

355

g

filtered water

1.5 cups

200

g

granulated sugar

1 cup
Instructions
Add 355 g (1.5 cups) of water to a small saucepan and heat over medium heat.

Add 200 g (1 cup) of sugar to the water in the pan, and stir gently to distribute.

While the sugar is dissolving, lightly crush 14 g (2 TBSP) of cardamom pods using either a mortar and pestle, the side of the blade of a chefs knife, or a rolling pin.

Add in the cardamom pods to the pan of simple syrup, and allow the mixture to simmer over medium heat for 15-30 minutes, depending on how intense of a flavor you want.

After your mix simmers, turn off the heat but allow the cardamom pods to continue infusing for up to one hour.

Strain the simple syrup through a fine mesh sieve to remove the cardamom seeds and pods. If you used ground cardamom, you may want to also strain your syrup through cheesecloth.

Store your finished simple syrup in an airtight container in the fridge for up to 2 weeks, or freeze for longer storage.
Nutrition
Nutrition Facts
Cardamom Simple Syrup
Amount per Serving
% Daily Value*
* Percent Daily Values are based on a 2000 calorie diet.
🧯food safety & other information
Food safety is an important ingredient in any recipe for success! Here are some tips to keep you safe in the kitchen!
While you can allow this syrup to sit at room temperature, don't leave it out for longer than 4 hours at a time. This helps to inhibit bacteria growth that can happen from the sugars in the syrup. Read more about the temperature danger zone here.

Use sterilized containers whenever possible. You can sterilize your containers by boiling them briefly, running them through your dishwasher with the sterilize feature activated, or pouring boiling water into the containers.

While you may be able to use your simple syrup longer than 2 weeks in the fridge, if you see any sort of cloudiness or dark spots in the syrup, throw it out. This is mold growth and is not a recipe for fun.

Never leave simmering syrup unattended on the stove.

If you use honey to make this syrup, avoid feeding it to children under the age of 1.