Growing up with an Italian grandmother meant we took coffee very seriously. Traditionally, all coffee beverages in Italy are served hot. But living in a place that regularly sees temperatures in the 80s-90s means having coffee over ice. This Iced Americano coffee recipe is sure to keep you energized even when it's too hot to drink hot coffee!
This recipe was inspired by my espresso ice cubes, because I'm always looking for ways to keep my coffee beverages cool without watering them down. Americanos are my preferred coffee drink of choice because they have great flavor and give me the jolt of caffeine I need to get through the day! If you are looking for an iced coffee beverage with syrup and milk, check out this double-shot iced shaken espresso recipe!
Jump to Recipe
Jump to:
💕 why you'll love this iced Americano recipe
☕️ buzzworthy. This iced americano will keep you awake just like a cup of espresso, but instead of quickly drinking it, you can take your time as you caffeinate.
🧊 icy cool. In the heat of summer (or you know…the South) it's important to keep cool however you can. Hot coffee isn't an option when it's 90 degrees outside!
🔤 foundational recipe. Knowing this recipe unlocks a whole bunch of barista-worthy variations! You can add syrups, milk, and even foam to your heart's content!
🛒 ingredients
espresso - you will need to make a double shot of espresso for this recipe, but you don't need to have a fancy espresso maker. While I do have (and love!) the Breville Barista Pro espresso machine, it is quite the splurge. If you make more than a few trips to your local barista, it's worth investing in a nice machine.

If you are looking for a cheaper alternative, you can totally make coffeehouse-quality espresso at home for $25 - $30! These espresso makers, known as moka pots, are what most people in Italy use to make their espressos at home, and they are quick, easy, and affordable!

filtered water - an americano adds water to the espresso to dilute it. It's best to use filtered water so that you don't add in any "off flavors" to the coffee.

ice - you'll need a full cup of ice cubes to the brim! Because the espresso will be a little warm, you can expect some ice to melt. If you want to make sure your coffee doesn't get too diluted, use these espresso ice cubes to keep your iced americano extra strong!
See recipe card for quantities.
☕️ espresso lingo
A puck of espresso. Pulling a shot. What's it all mean?! 😩 Here's a breakdown of popular barista jargon:
portafilter - The handheld filter basket that the coffee grounds go into. Water quickly filters through this portafilter to brew the espresso in seconds flat.
puck - The disc of coffee grounds that water filters through is called a "puck" of espresso quite simply because it resembles a coffee puck.
pulling a shot - In the 1930's, Achille Gaggia invented the first spring-loaded espresso machine. A barista pulls a lever down to allow water to fill a reservoir. Then, they release the lever and the water is allowed to flow through the puck of espresso.
tamping - This is the act of pushing the grounds down in the portafilter to form a puck of espresso.
knocking - After you have pulled a shot of espresso, you need to get the puck out of the portafilter. In order to do this, you sometimes need to "knock" it out by hitting it on the edge of a container. Knock boxes were made specifically for this purpose, but you can, of course, use your trashcan.
🍳 instructions
This iced Americano is made by mixing espresso, water, and ice. While it seems straightforward enough, be sure to allow your espresso to cool before pouring it into the cold ice and water so it keeps a smooth flavor profile.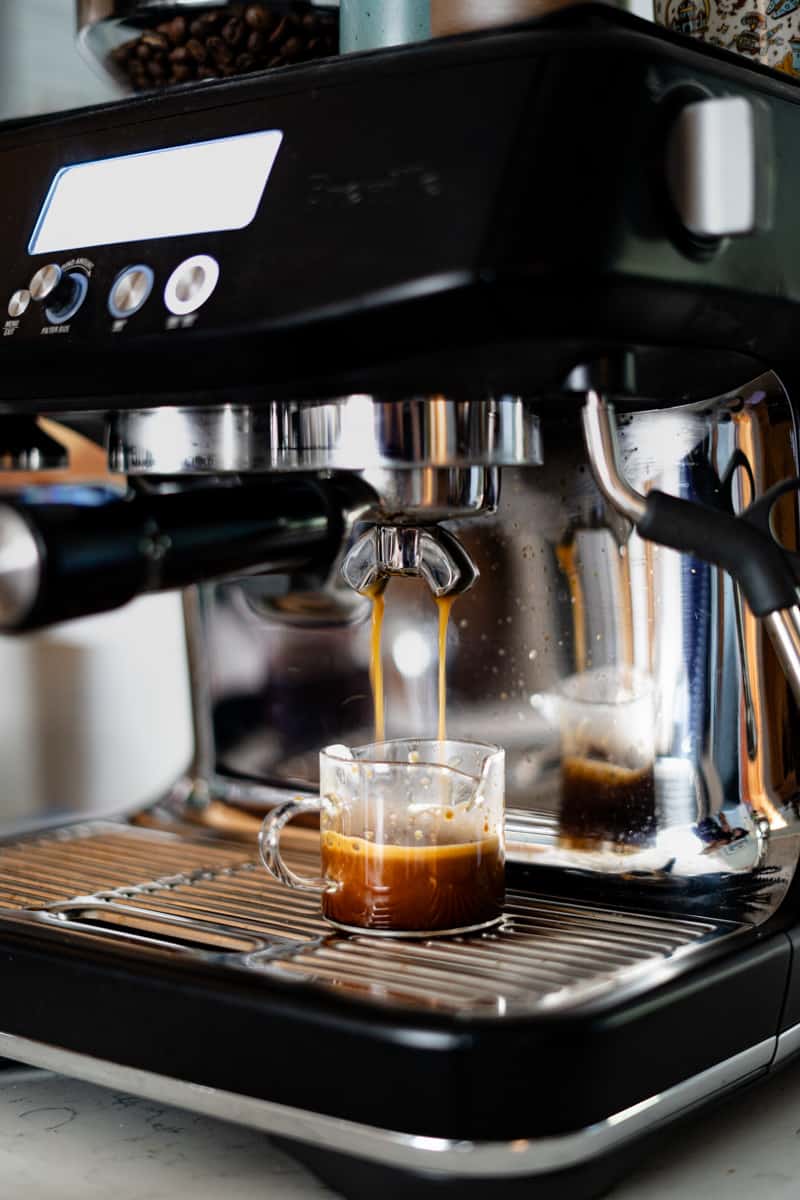 Step 1: Brew a double espresso according to the manufacturer's instructions, and allow the shot to cool slightly.
Step 2: Fill your preferred glass with ice, to the brim.
Step 3: Pour in about 6-8 ounces of water, leaving about 2 inches of room for your espresso.
Step 4: Slowly pour in your espresso over the ice and water. Pouring slowly allows the espresso to cool quicker than pouring it in all at once. This helps keep the flavor nice and smooth!
Step 5: Serve your iced Americano immediately, and enjoy it with a straw!
Hint: If you like your espresso to have a little sweetness, try making a simple syrup to mix in to your coffee beverage. Simple syrups are great because you can mix them into hot or iced beverages with little need for stirring!
Want more seasonal entertaining ideas? Subscribe to the mailing list below!
💡 tips and tricks for getting it right
🍽️ Serving Tips - Serve your iced americanos with breakfast or brunch! You can even set up a DIY coffee station for your guests to customize their coffees to their liking. Simply prepare as much espresso as you'll need for the number of guests you have, place it in a glass pitcher, and allow them to choose their own coffee adventure!
ℹ️ Troubleshooting Tips - How you brew your espresso matters, but possibly the most important thing is what coffee beans you use and the size of the grind.
It can take a little time to get to know your espresso machine, so don't feel bad if your first few tries are less than perfect. If your coffee is bitter, there could be several contributing factors, like the coffee being too fine of a grind or the water flowing through too quickly.
The good news is, once you figure out how to use your machine, it's smooth sailing from there!
⚖️ Scaling Tips - This recipe can easily be scaled up if you need a bigger caffeine fix! Check out the standard barista sizes below for more information.
🔆 top tip
Allow your espresso shot to cool for a few minutes. Pouring hot espresso over ice can cause it to taste bitter! I like to pull a shot first thing in the morning, then take the dog out or do a few chores while I allow it to cool. 😉
♻️ substitutions
Missing an ingredient? No problem. Check out these tried-and-true substitutions, or comment below with your question. I'm here to help you troubleshoot!
cold brew concentrate - if you don't have an espresso machine or a way to brew coffee, you can use cold brew or cold brew concentrate. Typically, cold brew coffee is brewed to be stronger than regular coffee, so it works well in this recipe!

instant espresso - don't discount the convenience factor of instant espresso! I've used it while traveling and while it's not the same as fresh brewed, it does the trick!

decaf - you can make this iced americano with decaf coffee if you're not into caffeine but you still like having coffee!
🎛️ variations
Feeling like a rebel?! 😈 Feel free to stray from the recipe card using these variations, or leave me a comment with your own!
sweetened - add in your favorite syrup or sweetener, like this brown sugar simple syrup.

with milk - while adding milk technically turns an Americano into a latte, I won't tell if you won't. Add your favorite dairy or non-dairy milk to your liking!

sparkling - try this iced Americano with sparkling water instead of still for a bubbly treat! If you want to amp up the flavor even more, add a twist of orange or lemon for a burst of citrusy flavor!

hot - skip the ice and serve this beverage hot for a classic Americano!
🧰 equipment needed
espresso maker - check out the information below for all of the ways you can make espresso at home, ranging from $25 - $1,000+, depending on your budget!

beverage glass of choice - Use whatever glasses you have on hand, I love using these picardie glasses from Duralex! For a glass that doesn't sweat or have condensation, I love opting for these double-walled cups from Bodum.

straw - while this is optional, I enjoy drinking my iced coffees with a straw. My favorite straws are made by GIR. They are silicone so they are reusable, dishwasher safe, and they don't stain.
☕️ All About Espresso Makers
Espresso is different than coffee because it is highly concentrated and has a foam, or crema, on top. This gives espresso it's smooth, almost velvety mouthfeel as opposed to coffee made in drip machines or French presses. In order to make a proper espresso, you will need an espresso maker. Don't worry if you don't have a fancy schmancy espresso maker at home! You can still enjoy iced Americano coffees using these variations on equipment!
espresso machines
Espresso machines are the best way to get a coffee house-quality espresso at home.
While some machines can top out at over $5,000, you can get a great at-home machine for under $1,000. I have and love the Breville Barista Pro espresso machine. It goes on sale about two or three times a year and is totally worth the indulgence if you have coffee every day.
As an alternative, I have several friends who have and love their Nespresso machines!
moka pot
This is one of the cheapest, easiest ways to enjoy traditional espresso at home!
Bialetti is my preferred brand, straight from Italy, and they have traditional aluminum and stainless steel.
While the stainless steel version is not made in Italy, I prefer it because I can use it on my induction cooktop.
Also, stainless steel is non-reactive, so I don't need to worry about any metallic flavors developing in my coffee or the metal oxidizing in any way!
drip coffee pot
while it's not traditional (you won't get the crema top that espresso has from brewing this way), brewing a double or triple-strength coffee in your standard coffee maker will suffice for this recipe!
If you have a coffee maker that has a "concentrate" button on it, use that when brewing espresso-style coffee in your drip machine.
French press -
a French press is another easy and cost-effective way to brew espresso-strength coffee at home without an espresso maker.
Like with the standard drip coffee maker, you don't get the crema top of an espresso, but the strength of the coffee is similar!
You can push the plunger halfway down, then lift it back up to create a sort of vacuum, then push it down all the way. This mimics the crema of an espresso to a degree.
🫙 storage tips
This beverage is best enjoyed immediately after making it.
If you have to store it you can store it in the fridge in an airtight container for up to 48 hours.
💬 q+a
How is an iced Americano different than an iced coffee?
Iced Americanos contain two shots of espresso, and iced coffee is a stronger brew of regular drip coffee. Iced coffee contains less caffeine than an iced Americano, and it is usually more delicate in flavor profile because it has more water in it. Espresso is a very concentrated shot of coffee, so it is not as diluted as iced coffee.
How much caffeine is in an iced Americano?
While the exact amount of caffeine depends on the roast of the coffee beans used, you can expect to see around 150 mg of caffeine in a 12 ounce iced americano made with two shots of espresso. In contrast, an iced coffee of the same size usually has around 136 mg of caffeine in a 12 ounce serving.
Is an iced Americano strong?
The taste of an iced Americano is much more bold than an iced coffee because of the addition of espresso shots. The roast of the coffee beans can also impact the overall flavor profile of the beverage. In general, lighter roasts have a more delicate flavor than darker roasts. Traditionally, espresso uses dark-roast beans.
🍽️ recipe
If you make this recipe, please leave a review in the comments and a star rating!
⭐️⭐️⭐️⭐️⭐️
I read every single comment! I also love connecting on social media, so snap a pic and hashtag it #myrecipeforfun and tag me on Instagram, TikTok, or pin this recipe on Pinterest!
🥣 recipe
Iced Americano
This iced Americano coffee is a classic coffeehouse beverage that is super easy to recreate at home.
Print
Pin
Rate
Equipment
1 espresso maker

1 12-ounce beverage glass
Ingredients
2

ounces

espresso

cooled slightly

6

ounces

filtered water
Instructions
Brew a double espresso according to manufacturer's instructions.

Allow your espresso to cool for a few minutes. Pouring hot espresso over cold ice can make it bitter. You can also brew your espresso the night before and put it in the fridge!

Fill your preferred glass with ice, to the brim.

Pour in about 6-8 ounces of water, leaving about 2 inches of room for your espresso.

Slowly pour in your espresso over the ice and water. Pouring slowly allows the espresso to cool quicker than pouring it in all at once. This helps keep the flavor nice and smooth!

Serve your iced americano immediately, and enjoy it with a straw!
Nutrition
Nutrition Facts
Iced Americano
Amount per Serving
% Daily Value*
* Percent Daily Values are based on a 2000 calorie diet.
🧯food safety
Food safety is an important ingredient in any recipe for success! Here are some tips to keep you safe in the kitchen!