Growing up with a live-in-Italian-Grandma means you learn to take some things seriously. Like espresso. But honestly, the biggest problem with espresso is that you have to wait for it to cool before you can slam the hot coffee. Well, coffee lovers, rejoice! Because these espresso ice cubes solve that problem. Now, you can pour your espresso overtop of ice cubes without worrying about your coffee getting diluted!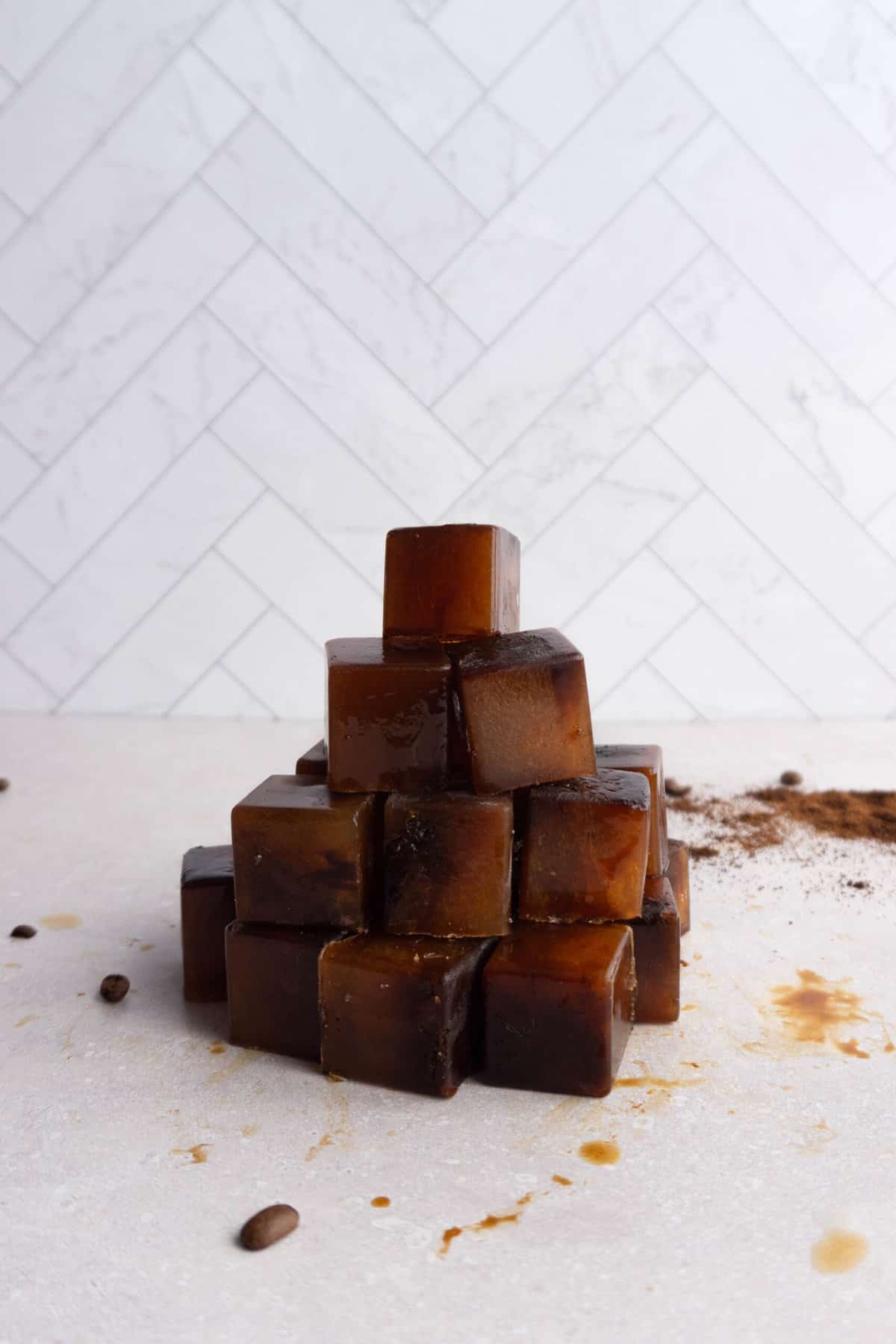 This recipe was inspired by a coffee shop visit when I was at a rum convention in South Florida in 2016 (yes, rum conventions are a thing!). I thought it was brilliant and needed to make them at home! Having coffee ice cubes in your iced coffee drinks helps keep them strong without getting watered down. So you can enjoy your Iced Americanos or Iced Cortados without them losing their edge. I totally get the ridiculousness of even calling this "a recipe," because we're really just freezing espresso. But...there truly is a process that I've found works well! Once you nail the process, you can customize the recipe to your liking, and you'll be enjoying ice-cold espresso beverages all year long. 😎
Jump to Recipe
Jump to:
💕 why you'll love this espresso ice cube recipe
🧊 bold & flavorful. If you are a fan of iced coffee, you know the problem with regular ice cubes. These coffee ice cubes help keep your cold coffee beverages bold and full of flavor without getting watered down.
🤩 extra special touch. If you are serving iced coffee beverages at a party, imagine the surprise and delight of your guests when you pull these frosty cold babies out of the freezer!
🎛️ customizable. You can customize these ice cubes to your liking super easily. Add in coconut milk, oat milk, or other syrups and flavorings like vanilla or chocolate! Peppermint mocha cubes, anyone?!
🛒 ingredients
All you need to make these cubes is espresso and water, and the ratio is really up to you. You don't even need to water the espresso down if you don't want to, but I recommend it since you will likely be using these cubes to cool even more coffee.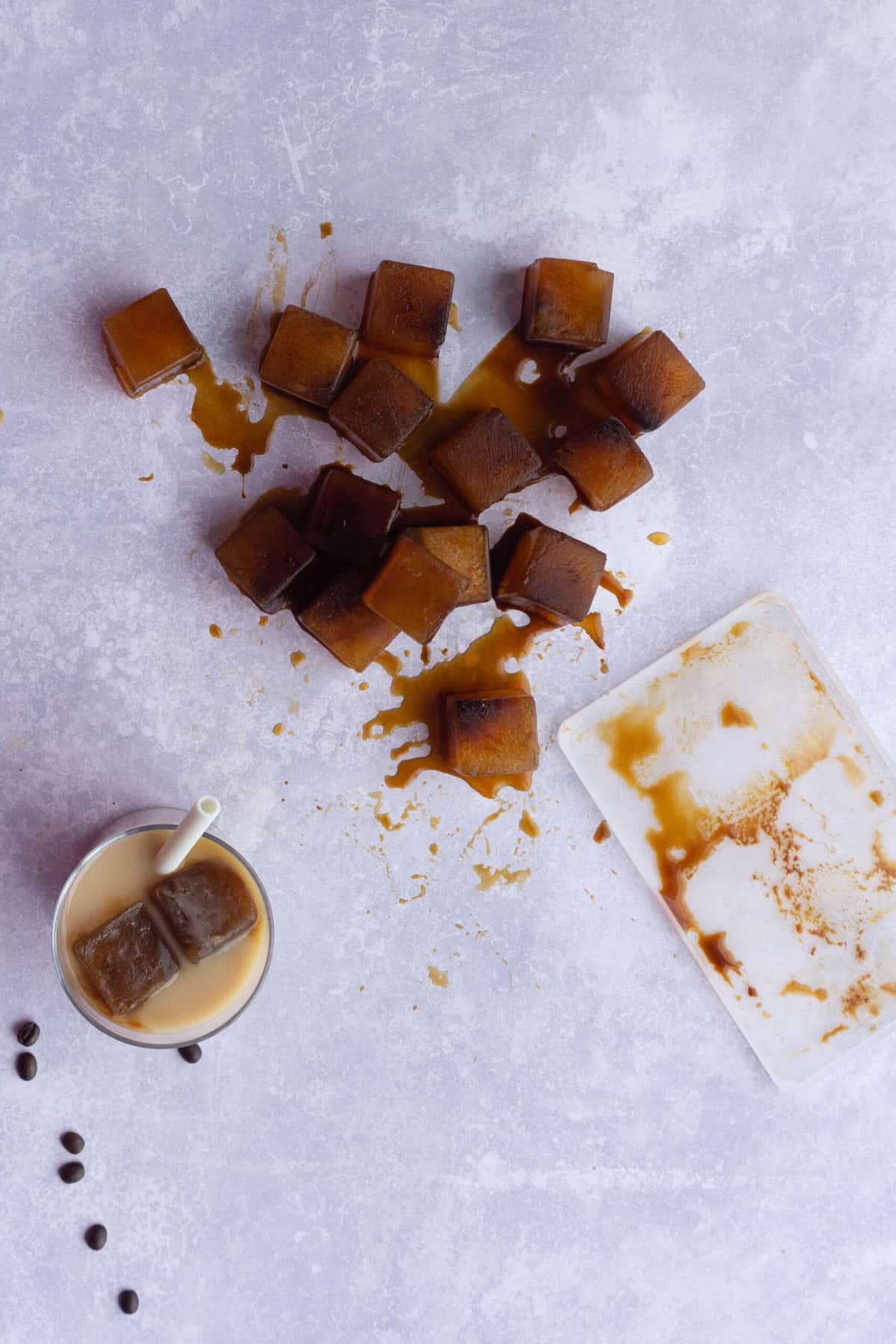 espresso - a good quality espresso is key in making the flavor of these cubes the best possible, but quality doesn't always mean expensive. With coffee, freshness is super important, so make sure your coffee beans are freshly ground if possible.

I prefer buying whole-bean coffee and grounding it fresh at home for the best espresso. You may also want to look into a coffee subscription service. It's a great way to find your favorite flavor profiles! Pair Cupworks, based in Arizona, offers a super fun monthly coffee subscription delivered right to your door. You may even be able to find a coffee roaster near you!

filtered water - just like with the espresso, make sure your water is quality and fresh. Funky-tasting water makes for funky cubes. 🫣 When all else fails, you can boil your tap water and let it cool before freezing to help keep unwanted flavors at bay. It's an extra step, but when you're dealing with the best morning cup o' joe, it's worth it!
See recipe card for quantities.
🍳 instructions
The hardest part about this recipe is waiting for these cubes to freeze.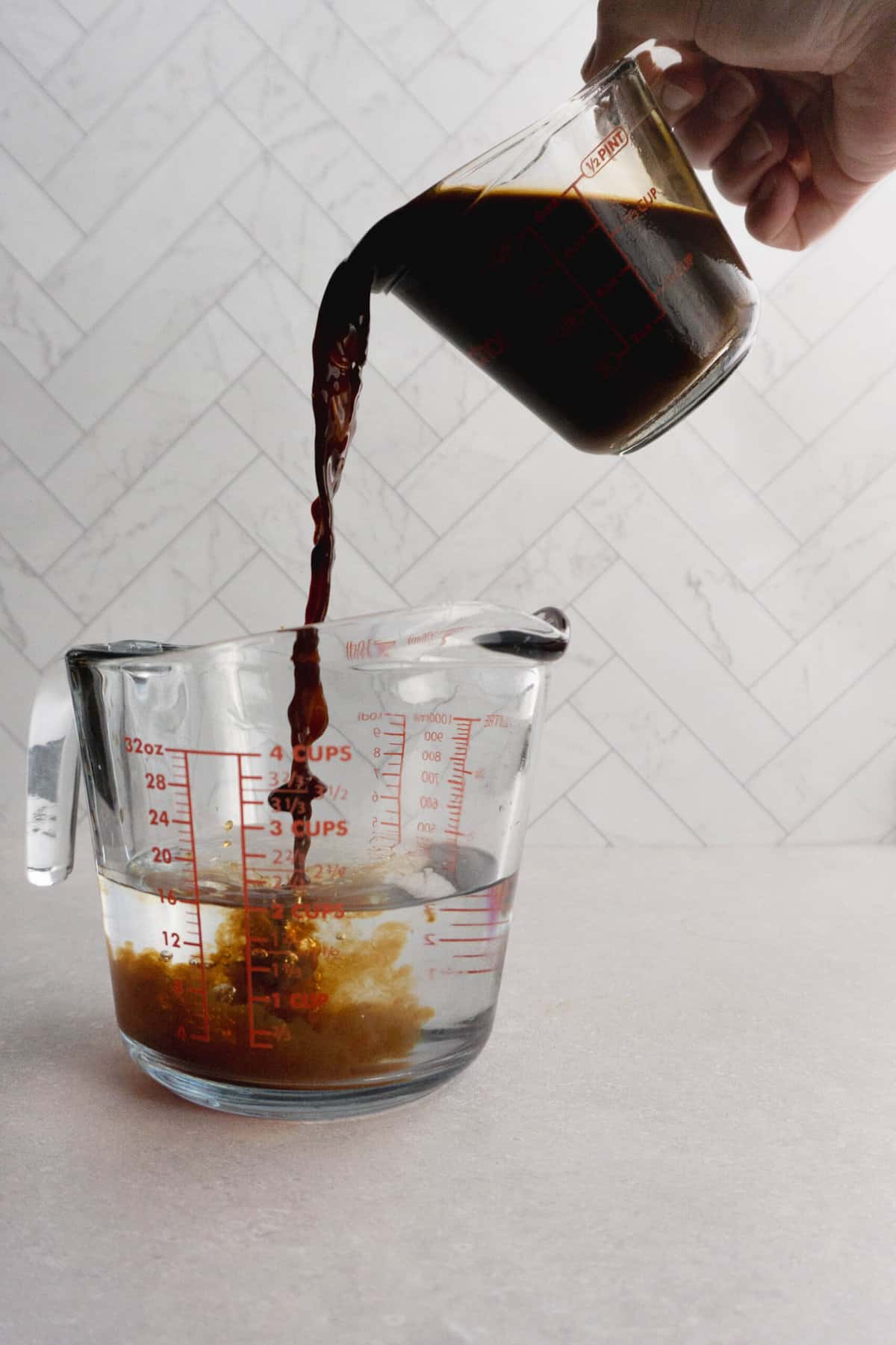 Step 1: Brew 6 - 8 ounces of espresso and allow it to cool slightly before combining with 16 ounces of filtered water.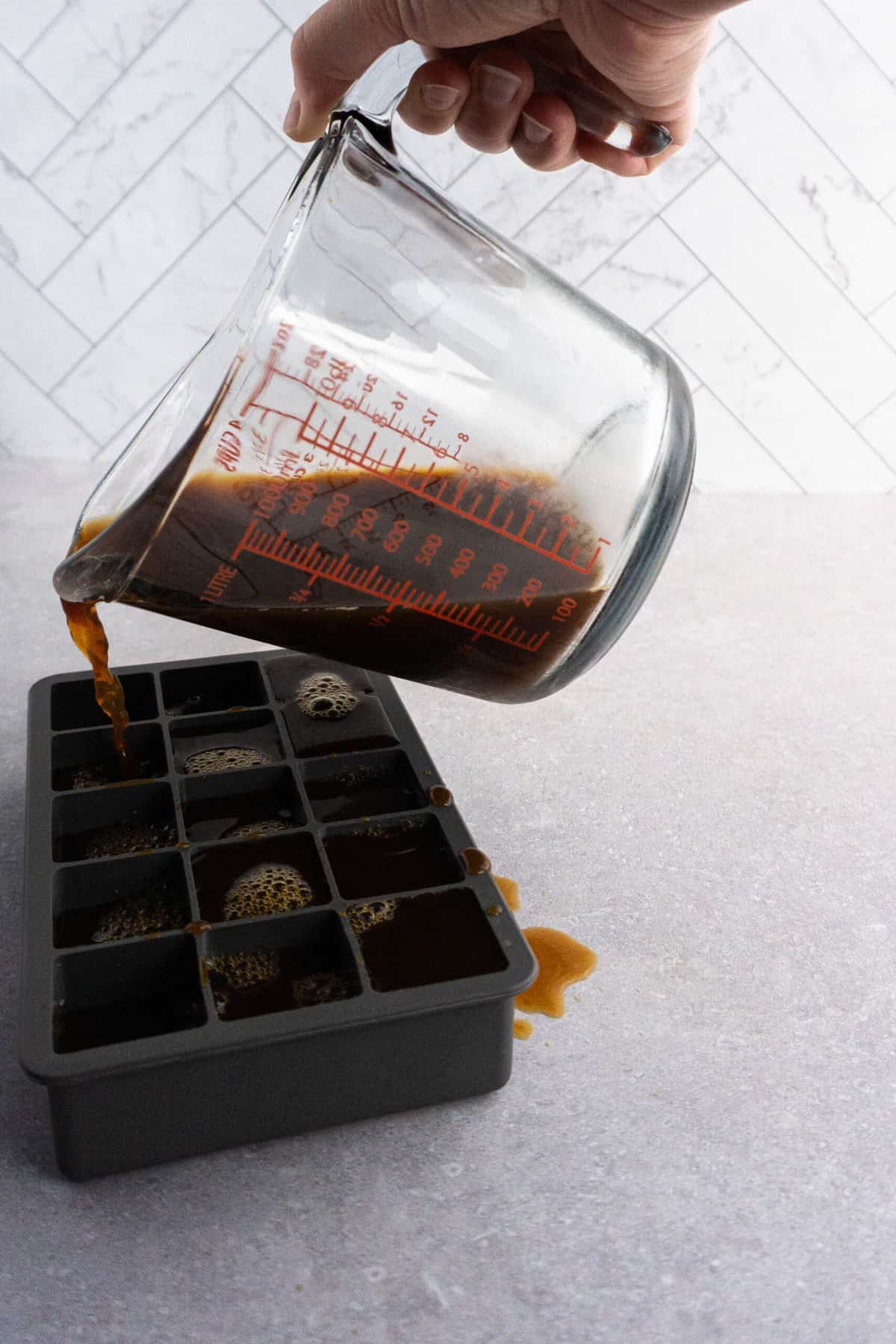 Step 2: Pour your diluted espresso into ice cube trays, be careful of spills! Make sure your trays are on a flat surface for best results.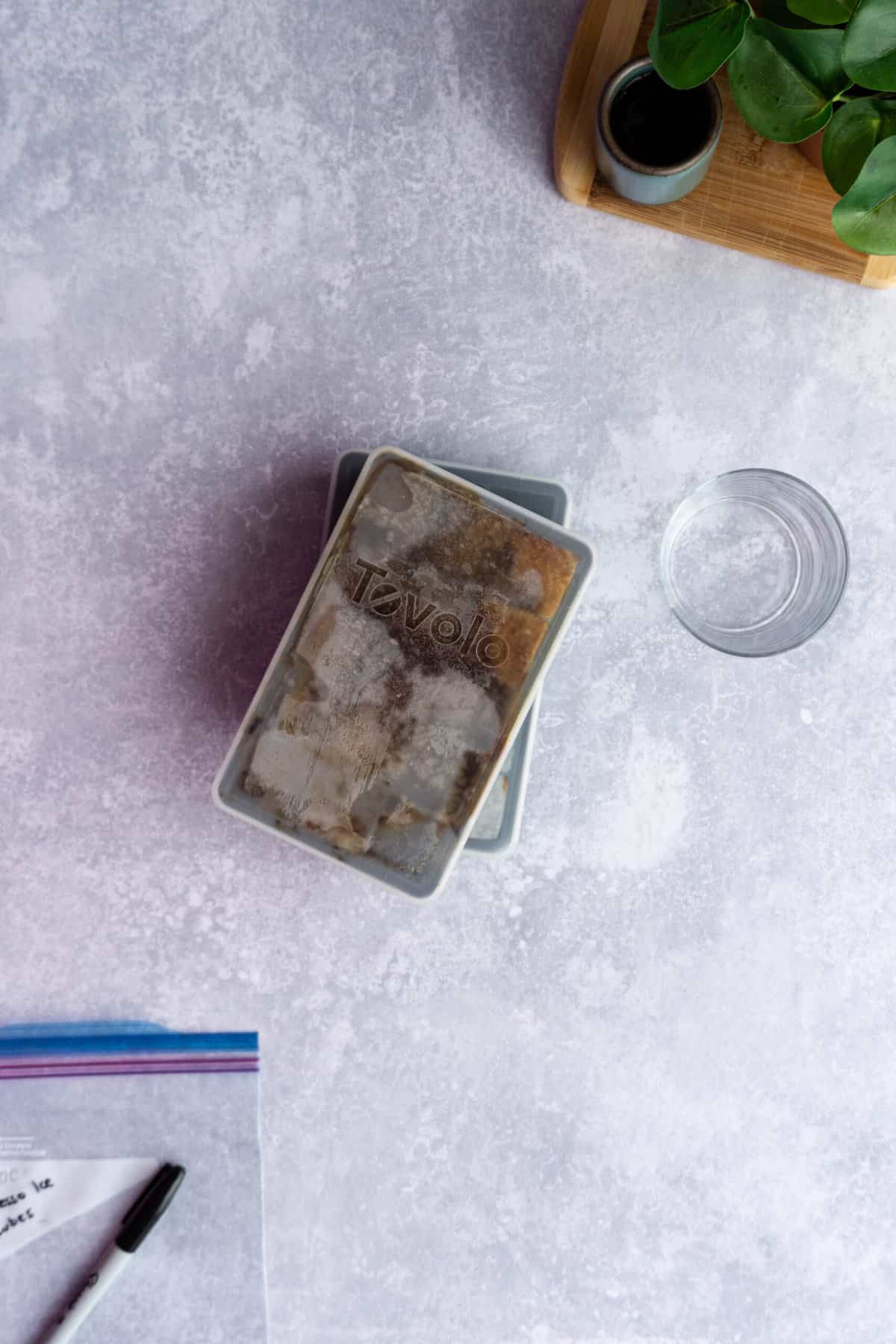 Step 3: Allow to freeze for at least 8 hours or overnight.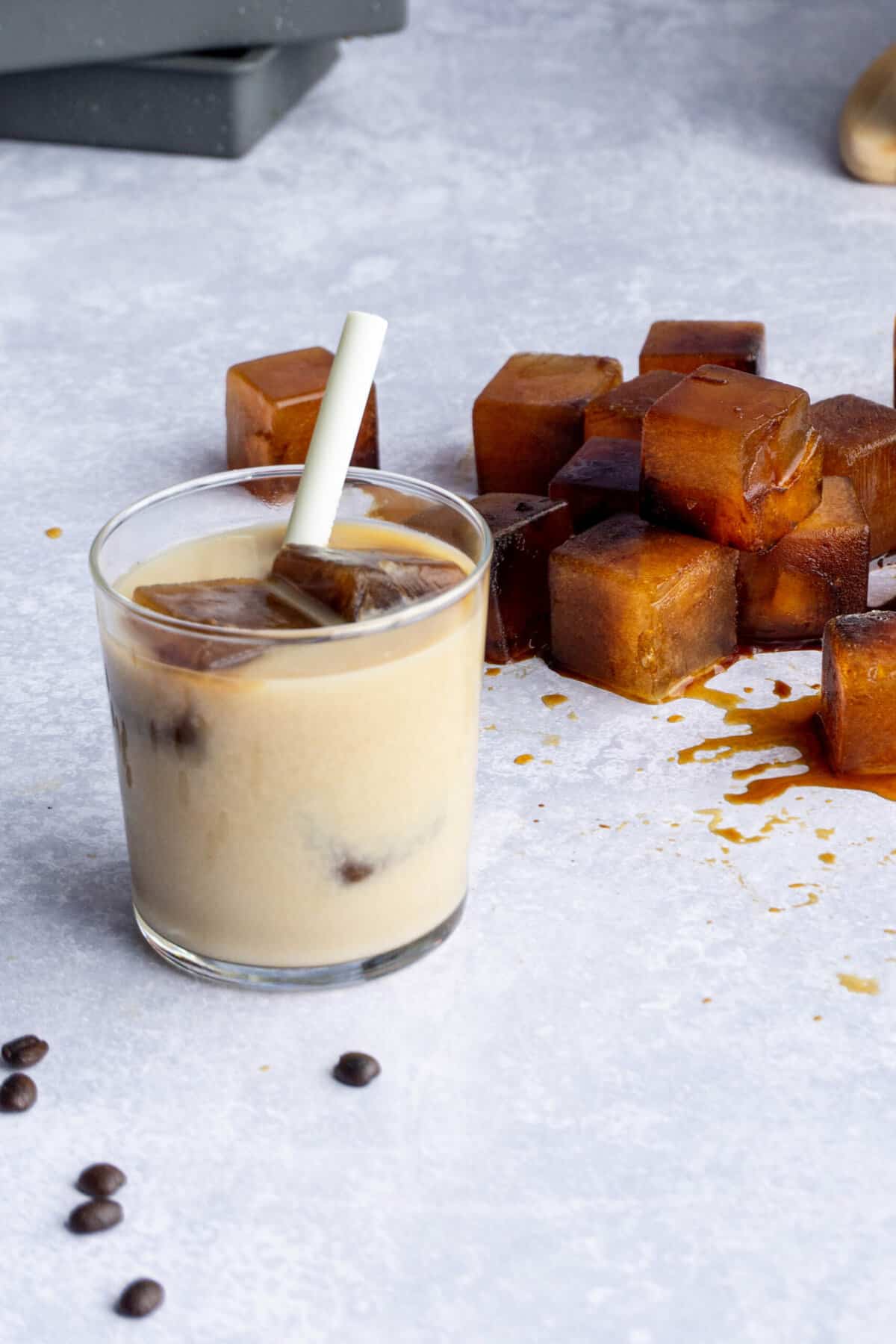 Step 4: Store in the freezer for up to three months, and use in your favorite iced coffee beverages!
Hint: You can dilute the espresso as much or as little as you want! For a super-charged ice cube, don't dilute your espresso at all.
Want more seasonal entertaining ideas? Subscribe to the mailing list below!
💡 tips and tricks for getting it right
🍽️ Serving Tips - While these are great for making a cold drink on a hot summer day, these ice cubes aren't just for beating the summer heat. You can enjoy them any time of the year, warmer weather or not! Pour a shot of espresso over these ice cubes to rapidly cool the espresso.
Or throw these ice cubes in your favorite milk and sweetener combo for a drink that grows more complex as the ice melts. You can also fill a glass with the cubes and pour in some oat milk and brown sugar simple syrup.
Use these cubes in coffee cocktails, or fill a cocktail shaker with them when making a chocolate espresso martini!

ℹ️ Troubleshooting Tips - Adjust the amount of water in your espresso cubes to your liking. If your coffee is super strong, you may want to dilute the espresso a little more to balance the flavor per cube. Essentially, we are creating a big batch of café Americano to freeze into cubes!

⚖️ Scaling Tips - This recipe can easily be doubled or tripled if you want to stock your freezer with a large batch of coffee ice cubes!
🔆top tip
Customize these espresso ice cubes to your preference for a morning coffee or afternoon pick-me-up that no barista can match!
♻️ substitutions & variations
♻️ substitutions
The beauty of this recipe is that it is super easy to make your own, based on what you have in your own pantry.
medium or light roast coffee - you don't have to use dark roast coffee beans to make espresso! You can use light or medium-roast coffee beans as well. Heck, you can even use decaf if that's your thing.
cold brew - no espresso? No problem! You can absolutely use cold brew coffee or regular brewed coffee to make coffee ice cubes! If you go their route, just increase the amount of ground coffee per cup to make a stronger brew for the frozen coffee cubes.
instant coffee - don't hate— instant coffee works perfectly for this recipe and is super accessible!
🎛️ variations
Feeling like a rebel?! Make this recipe your own with one of the following variations.
add milk or cream - with the addition of your favorite dairy or dairy alternative, you can make a fun layered coffee ice cube that will be custom-built to your liking.
sweeten it up - add in your favorite syrup or sweetener. I've even added this strawberry simple syrup to my morning brew!
flavored coffee - if you have a favorite flavor of coffee, try using it in these cubes! I have made Santa's White Christmas coffee cubes that were insanely delicious for the holiday season!
seasonal variations - it's fun and easy to make seasonal variations of these coffee ice cubes, like these pumpkin spice latte ice cubes!
🧰 equipment needed & storage tips
🧰 tools needed to make espresso ice cubes
Ice cube trays are a must for making this recipe, and I have a variety of trays I love to use, depending on my mood. You'll also need a way to make your espresso, but don't worry! There are a variety of ways you can make espresso right at home!
🫙 storage tips
Once frozen, these ice cubes will keep for up to three months in the freezer, but I bet they won't last you that long! 😜

Store them in a zip-top bag or an airtight container to preserve their flavor and stop them from absorbing any weird flavors.
💬 q+a

Do I have to use espresso to make these cubes?
Not at all! You can use whatever coffee you like or have on hand. If you have leftover coffee, allow it to come to room temperature and then freeze it in ice cube molds! I've made these cubes with regular brewed coffee, cold brew coffee, and even *gasp* instant coffee! You may need to tweak the strength of the brew, but they all work well in this recipe!
What if I don't have a fancy espresso machine?
There is no need to have a fancy espresso machine to make these cubes. You can use a stovetop espresso maker that is $30 or less! You can also brew a stronger regular drip coffee to match the strength of espresso.
How long do these espresso ice cubes stay fresh?
I honestly haven't been able to keep them around longer than a few weeks. They should stay fresh for up to three months in the freezer.
How can I use these espresso ice cubes?
These ice cubes are super versatile. You can use them in your favorite iced beverage to make the perfect coffee. You can pour hot espresso over top of them to cool it down quickly. Or, you can just put them in some ice water or your favorite milk or dairy alternative for a cool coffee beverage! The possibilities are endless!
📌 pin this recipe for later!
If you make this recipe, please rate it using the stars on the recipe card, and leave a review in the comments!
⭐️⭐️⭐️⭐️⭐️
I read every single comment! I also love connecting on social media, so snap a pic and hashtag it #myrecipeforfun and tag me on Instagram, TikTok, or pin this recipe on Pinterest!
🥣 recipe
Espresso Ice Cubes
These espresso ice cubes ensure your morning coffee stays cold without getting watered down. You can pour a shot of hot espresso over these ice cubes to rapidly cool the hot espresso or put them in your favorite coffee-based beverage!
Print
Pin
Rate
Equipment
1 espresso maker

stovetop or fancy schmancy

1 large measuring cup

2 ice cube trays
Ingredients
8

oz

espresso

substitute strongly brewed coffee or cold brew

16

oz

filtered water
Instructions
Brew 8 ounces of espresso, or four double shots, and allow it to cool slightly.

Combine the 8 ounces of espresso with 16 ounces of filtered water in a large measuring cup.

Pour the espresso mixture into ice cube trays, filling ¾ of the way to leave room for expansion when the liquid freezes.

Freeze the trays for 8 hours, or until solid.

Store the cubes in a ziptop bag or airtight container for up to 3 months.
Notes
Make your espresso ice cubes as strong or as diluted as you wish, but keep in mind that you will likely be adding them to coffee-based beverages.
I like to use a 2:1 ratio of water to espresso!
Nutrition
Nutrition Facts
Espresso Ice Cubes
Amount per Serving
% Daily Value*
* Percent Daily Values are based on a 2000 calorie diet.