When you're making cocktails at home, you find yourself needing specialized ingredients like sour mix and simple syrup. While you can buy these ingredients in-store, it's quick and easy to make your own at home, and the flavor is heads and tails about the store-bought version. This recipe for a homemade sweet and sour mix will keep you from using store-bought mixes ever again!
The flavors of lemon, lime, and simple syrup come together to make a sweet, sour, and zesty cocktail mix perfect for creating various beverages, from margaritas to whisky sours. This recipe was inspired when I was whipping up a batch of lime salt for some margaritas, and I knew I wanted a fresh and flavorful mixer for a margarita. Sometimes sweet and sour mix is simply called "sour mix," so you may see that interchangeably in this recipe!
Jump to Recipe
Jump to:
💕 why you'll love this recipe
🍋 flavor-packed. This homemade sour mix is packed with fresh, bright flavor, unlike storebought brands.
🎛️ easily customizable. You can make your sweet and sour mix as sweet or sour as you like!
⏱️ quick & easy. This recipe is simple and straightforward, using only a handful of ingredients.
🛒 ingredients
This homemade sweet and sour mix recipe comes together so quickly, you won't miss making a trip to the store. Not to mention, you don't have any weird ingredients or preservatives lurking in your mixers!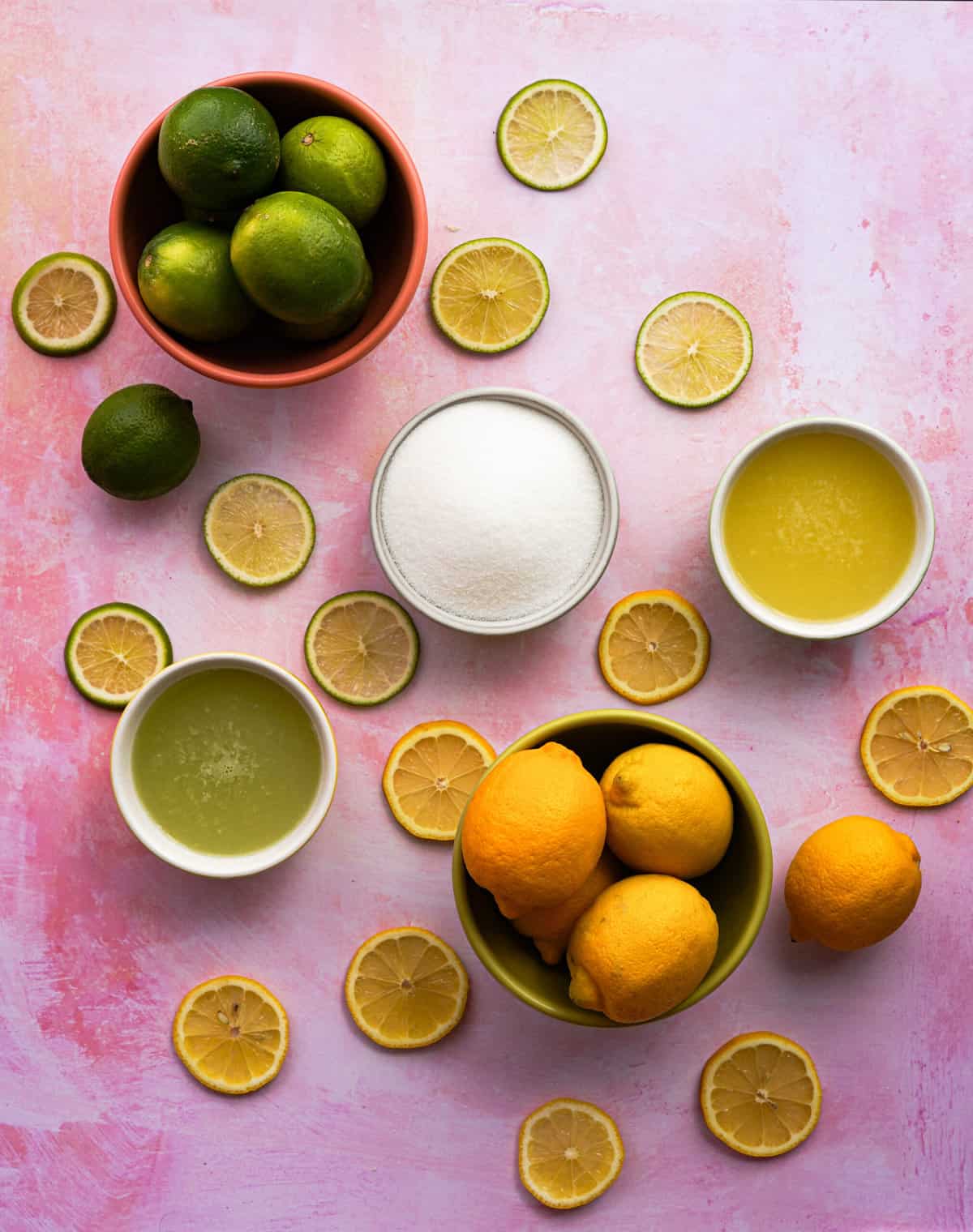 lemons - freshly squeezed juice helps to flavor this cocktail and lemon slices serve as the perfect garnish.

limes- you'll need fresh limes for this recipe as well. The fresh citrus juice is what gives this sweet-and-sour mix the best flavor!

granulated sugar - in order to make this recipe, you'll need to make some simple syrup as well. Luckily, it really is...simple!

water - plain old filtered water from your fridge or sink will do fine! Filtered water is best because it has a more pure taste without additional funky flavors.
🍳 instructions
There are two phases to this recipe: making the simple syrup and juicing the citrus. Thankfully, you can juice the citrus while the simple syrup cooks and cools. This recipe is super straightforward because it uses the 1:1:1 ratio. This means that there are equal parts of all three ingredients, simple syrup, lime juice, and lemon juice!
Step 1: Combine granulated sugar and water in a small saucepan, and bring to a simmer. Cook on medium-low heat until the sugar is completely dissolved, then allow the simple syrup to cool.
Step 2: Slice and juice your lemons and limes until you have one cup of lemon juice, and one cup of lime juice.
Step 3: Mix the cooled simple syrup, lime juice, and lemon juice in a container of your choice.
Step 4: Store the homemade sweet and sour mix in an airtight container in the fridge for up to 5 days.
💡 tips and tricks for getting it right
🍽️ Serving Tips - Use this sour mix in all of your favorite cocktails, from margaritas to whiskey sours. You can also use it in mocktails or to make homemade citrus soda pop!

ℹ️ Troubleshooting Tips - Use the freshest citrus you can find. Old fruits can make your sour mix taste super sour instead of a nicely balanced sour mix. Leaving your citrus out at room temperature for 30 -60 minutes before preparing the recipe can help you to maximize the amount of juice you extract from the fruits.

⚖️ Scaling Tips - This recipe can easily be doubled or tripled if you need a larger batch.
🔆 top tip
Room-temperature citrus yields more juice than cold citrus, so try to leave your lemons and limes out at room temperature for a few hours before making this sour mix recipe!
♻️ substitutions
Missing an ingredient? No problem. Check out these tried-and-true substitutions, or comment below with your question. I'm here to help you troubleshoot!
honey or agave - you can use honey or agave to make a simple syrup instead of granulated sugar.

store-bought simple syrup - you can use store-bought simple syrup instead of making your own if you prefer.
🎛️ variations
Feeling like a rebel?! Feel free to stray from the recipe card using these variations, or leave me a comment with your own!
frozen cubes- freeze your homemade sour mix in an ice cube tray and use those cubes to make frozen mixed drinks!

spicy - add a dash of red pepper, chipotle pepper, or cayenne pepper to your simple syrup while it's simmering to give your simple syrup, and your sweet and sour mix, a kick!

orangey - add in 1 cup of orange juice as well, and you'll have a super citrus blend of sweet and sour mix!
🧰 equipment needed
Thankfully, this recipe doesn't require any fancy-schmancy equipment! You likely already have everything you need at home!
🛠️ The right tools for the job:
Use pots, pans, and strainers that are non-reactive, like stainless steel. Additionally, I recommend using silicone utensils instead of wooden or metal tools. Enameled cast iron is also a great choice!

Aluminum can react to acids and impart a metallic taste, even when you're just quickly straining a liquid! Wood can also absorb flavors from cooking, whereas silicone tools can be left right in the pot when things cook.

The best bet for a pure citrus flavor is using non-reactive tools, like stainless steel, enameled cast iron, and silicone.
🫙 storage tips
The finished sour mix will keep in your fridge for up to 5 days. Since the juice is freshly squeezed, it doesn't have any preservatives to keep it fresh longer. If you are making this with storebought lemon juice or storebought lime juice, you can keep it for up to a week!
If you want to store this recipe for longer, you can freeze it for longer-term storage.
💬 q+a
What is the difference between sweet and sour mix and sour mix?
Nothing! They are the same thing, but the names are used interchangeably.
Why is my sour mix extra sour?
If your citrus is past its prime, it may be giving your sweet and sour mix an "off" flavor, or have an extra sour taste. The best way to avoid this is by using the freshest produce you can get, and don't be afraid to give your lemons and limes a little sample before juicing them all!
Can I use store-bought lemon or lime juice?
If you can't get your hands on enough lemons and limes to get one cup of freshly squeezed juice each, you can use storebought lemon juice or storebought lime juice. Fresh juice will give you the best flavor, but in a pinch store-bought will do just fine.
Is sour mix the same as margarita mix?
Sour mix is not exactly the same as margarita mix by definition, but you can totally use sour mix to make margaritas! Typically, margaritas are made with lime juice and a small amont of orange juice, however you can use this homemade sweet and sour mix recipe to make any margarita you like!
what is sour mix made of?
Sour mix is a mixture of lemon juice, lime juice, and simple syrup! The ratio for creating this mixer is 1:1:1, meaning you use equal parts of each ingredient.
Why does my sour mix taste metallic?
If you used any aluminum tools to make this recipe, like the fine mesh sieve or saucepan, it is possible that the aluminum imparted a metallic taste. This happens due to the acidity of the citrus, so it's best to use a stainless steel sieve and pan, or a an enameled cast iron pan.
🍽️ recipe
If you make this recipe, please leave a review in the comments and a star rating!
⭐️⭐️⭐️⭐️⭐️
I read every single comment! I also love connecting on social media, so snap a pic and hashtag it #myrecipeforfun and tag me on Instagram, TikTok, or pin this recipe on Pinterest!
🥣 recipe
Homemade Sweet and Sour Mix
This easy recipe for a homemade sweet and sour mix uses fresh lemons, lime, and a quickly made simple syrup. It comes together in a matter of minutes and it will keep you from using store-bought mixes ever again!
Print
Pin
Rate
Ingredients
5-6

whole

lemons

enough to get 1 cup of juice

5-6

whole

limes

enough to get 1 cup of juice

½

cup

sugar

½

cup

water

filtered
Instructions
Combine ½ cup granulated sugar and ½ cup filtered water in a ⅕-quart saucepan.

Place the saucepan over medium heat until it reaches a simmer.

Lower the heat to medium-low and simmer until the sugar is completely dissolved. Remove the pan from heat and allow to cool. You should have about a cup of syrup.

While the syrup cools, juice 5-6 lemons and 5-6 limes, until you have 1 cup of each kind of juice.

When the syrup is completely cooled, combine the syrup and both the lemon and lime juice in a pitcher or other airtight container.

Store the sweet and sour mix in an airtight container in the fridge for up to 5 days. Use it in any cocktails you like!
Notes
If you prefer your sour mix to not have citrus pulp, you can strain the juice through a fine mesh sieve.
Nutrition
Nutrition Facts
Homemade Sweet and Sour Mix
Amount per Serving
% Daily Value*
* Percent Daily Values are based on a 2000 calorie diet.