The springtime month of May is known for fresh flowers, warmer temperatures, and regeneration. It's often said that April showers bring May flowers, but maybe it applies to May produce as well! You'll start to notice many more fruits become available as springtime is in full swing. Keep reading to find out what is in season in May!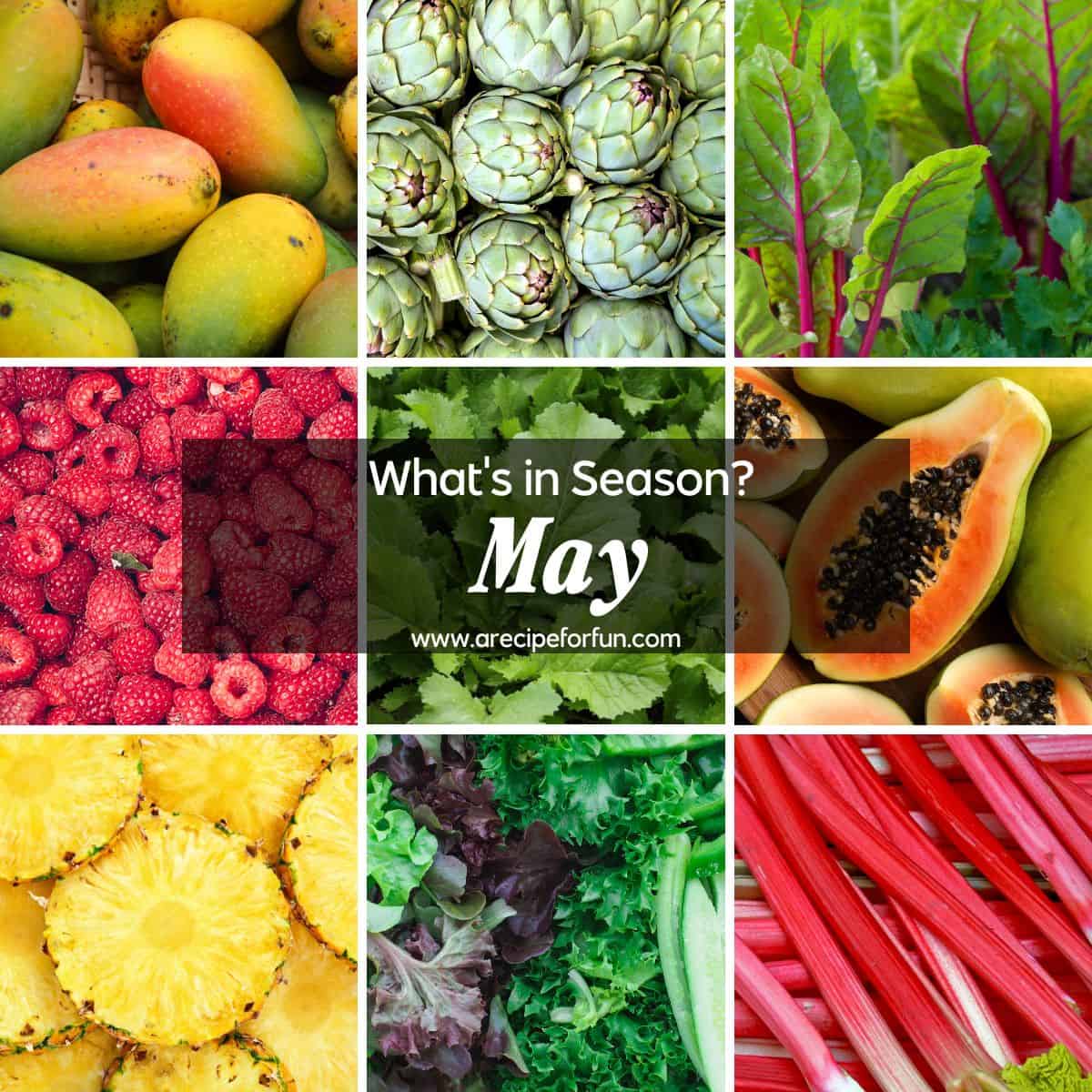 The weather in May is warmer, and rain can be plentiful to support the growth of springtime crops. With the last frosts of winter coming to an end in most places in the United States, making May one of the most ideal gardening months! Plants that have been started indoors are ready to be put in the soil full-time. It's truly a time of abundance at local markets, too!
Use this jump-to menu to quickly navigate to sections of this blog post, and check out the other monthly seasonal produce guides here.
Jump to:
infographic of what's in season in May
Here's a handy infographic to showcase some of the freshest seasonal produce available in May. Save this image for all your grocery trips this month, or pin it for later!
complete list of fruits & veggies in season in May
Here are two comprehensive lists of fruits and veggies that are in season during the month of May!
Fruits that are in season in May:
Apricots
Blackberries
Blueberries
Boysenberries
Cantaloupe
Cherries
Dragon Fruit
Guava
Kumquats
Lychee
Mangoes
Melons
Nectarines
Papaya
Passion Fruit
Peaches
Plums
Raspberries
Pineapple
Strawberries
Watermelon
Vegetables that are in season in May:
Artichokes
Asparagus
Avocados
Beets
Broccoli
Cabbage
Carrots
Cauliflower
Celery
Chard
Chives
Green Beans
Green Onions
Kale
Leeks
Mustard Greens
Radishes
Rhubarb
Spinach
Summer Squash
Swiss Chard
Tomatillos
Zucchini
May Seasonal Produce Spotlight & Recipes
Here's a focused list of what produce is in season in May and some links to recipes for inspiration! Want more inspiration? Let me know in the comments below, and I'll help you out!
Guavas are small, pear-shaped fruit that ranges from pale yellow to bright pink in the middle, depending on the variety.
While guava is still seen as a tropical luxury, the flavor is well-loved by most who taste it, described as having the flavor of a pear and a strawberry. Here in Central Florida, we see guava as a staple ingredient in pastries thanks to Cuban and Puerto-Rican influence. Even our every-day grocery stores carry guava pastries! Try making your own at home, using my friend Jaime's pastelitos de guayaba (guava and cheese pastries) recipe!
Papaya is a popular tropical fruit, if only for its striking yellow-green-orange color variation and plentiful black seeds.
Papaya is a super-fast-growing tree. In fact, you can plant a papaya tree and get your first fruits within the year! The most popular way to eat papaya is either raw, with a squeeze of lime juice, or in smoothies. The flavor and scent can be polarizing, but when combined with the citrus flavor of lime, it is said to be more palatable to those who don't prefer papaya. Another variety of papaya is the green papaya, which is usually served julienne style in slaws and salads. Try making orange papaya into a jam, or in a frozen beverage, like this smoothie.
Springtime is when peas start to show up in markets across the United States, and peas are perfect for so many al fresco spring dishes!
There are several varieties of peas, and they remain in season through September so there is plenty of time to try them all! Snow peas and snap peas are great in dishes like stir fries, while peas out of the pod are wonderful in pasta salads. This lemon and pea alfredo is a great way to savor the springy taste of peas in a pasta dish!
Kiwi fruits are small, brown, fuzzy ovals on the outside, but inside, they are a vibrant green color and have tons of tiny black seeds.
Most kiwis in the United States are grown in California, but New Zealand is the world's leading producer. In fact, the kiwi got its name from the kiwi bird in New Zealand, because the shape and color resemble the bird. Kiwi is most popularly paired with strawberries, but it is delicious on its own or paired with other fruits. One of my favorite ways to enjoy it is in a cocktail, like with this Kiwi Mojito.
Swiss chard is also known as rainbow chard, or even more simply called "chard." It's related to Spinach, and it cooks up quite similarly, too.
You can use the entire vegetable in cooking, so don't be afraid to sauteé both the stems and the leaves! Just be sure to cook them separately, as the stems will take a bit longer to cook since they are more fibrous. Chard is super versatile, and is delicious sauteéd, roasted, or even cooked atop a pizza! The flavor is a little more earthy than spinach, with a slight sweetness as well.
💬 Let me know in the comments what May produce you're looking forward to!
It's always exciting to see more seasonal fruits in the markets-- I think that's a real signal of springtime being in full swing! Are there any other May ingredients you'd like to know more about? Let me know in the comments below, and I'll add on to this post!