The heat is on in July! But what fresh produce is in season during the peak of summer?! This seasonal produce guide will help you keep your fridge stocked all season long with peak produce! So let's explore what is in season in July!
July is when temperatures are really rising across the United States, but that doesn't mean there's no fresh produce to be had!
Use this jump-to menu to quickly navigate to sections of this blog post, and check out the other monthly seasonal produce guides here.
Jump to:
Seasonal Foods Infographic for July
Here's a handy infographic to showcase some of the freshest seasonal produce available in July.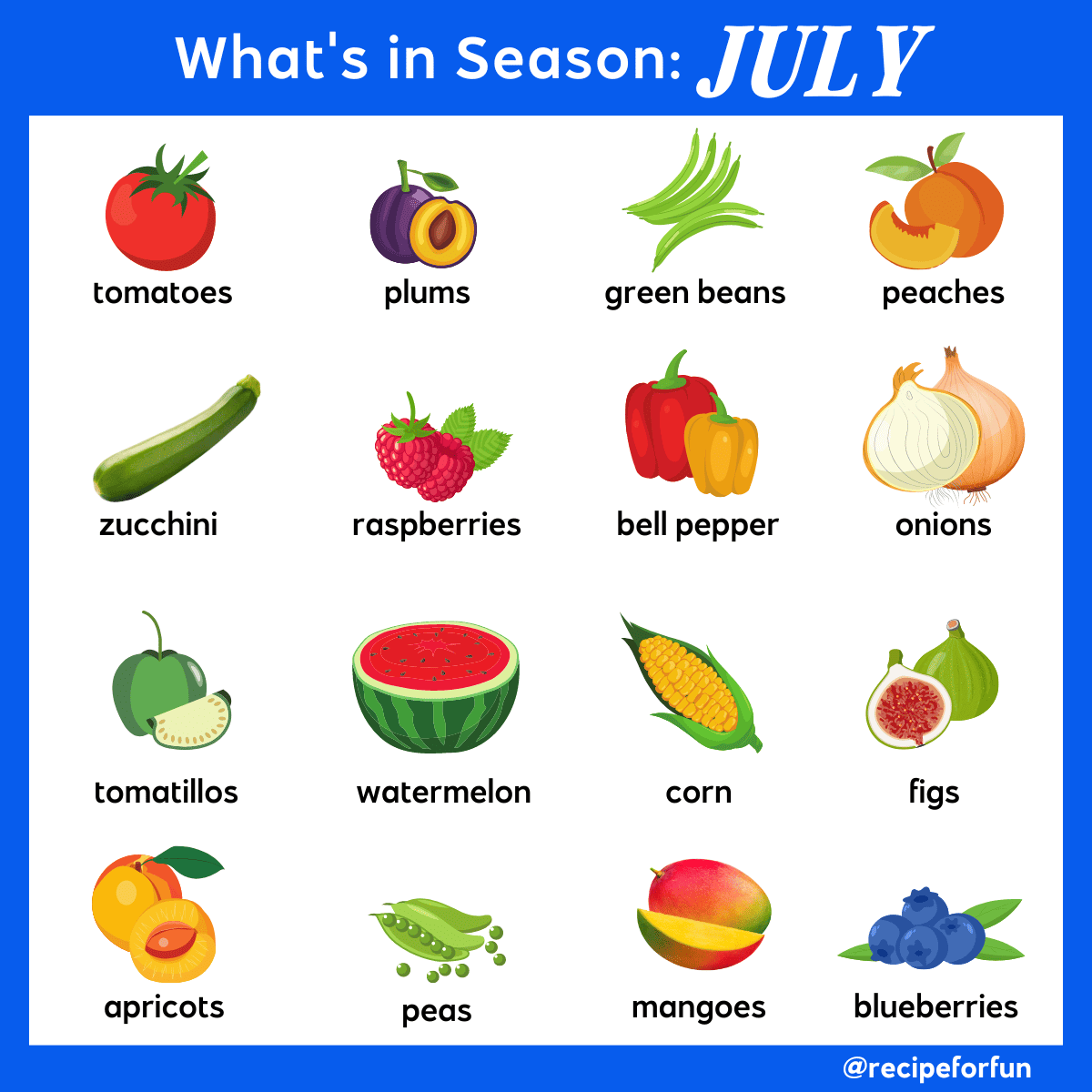 Comprehensive List of July Produce
Summer berries, melons, and stone fruit are the key fruits that are in season in July. As for veggies, peppers, summer squash, and tomatoes take center stage.
What fruits are in season in July:
apricots
blueberries
blackberries
cantaloupe
cherries
figs
grapes
guava
lychee
mangoes
melons
passionfruit
peaches
plums
raspberries
strawberries
watermelon
What vegetables are in season in July:
asparagus
arugula
beets
broccoli
carrots
cauliflower
chives
chili peppers
corn
cucumbers
eggplant
garlic
garlic scapes
green beans
green onions
kohlrabi
leeks
okra
onions
peas
peppers
potatoes
radishes
rhubarb
snow peas
snap peas
summer squash
tomatillos
tomatoes
turnips
zucchini
Pin this image to remind yourself what's in season on your grocery store and farmer's market runs during July!
July Seasonal Produce Recipes
Here's a focused list of what produce is in season in July and some links to recipes for inspiration! Want more inspiration? Let me know in the comments below, and I'll help you out!
Peppers aren't just known for being spicy. Peppers can be sweet, mild, and hot in terms of heat factor. The summer month of July is peak pepper season!
Chili peppers tend to have a higher heat factor, while peppers like bell peppers and poblano peppers are milder. Sweeter varieties of peppers include cubanelle, banana, and Anaheim. Feeling creative? Try incorporating peppers into sauces and dressings, like with a roasted jalapeño lime crema.
Summer berries are plentiful in the market, which means they're ripe for the picking! These berries are great for getting creative in the kitchen.
One of the easiest ways to incorporate the flavor of summer berries at home is by making a simple syrup! Check out my recipes for strawberry simple syrup or blueberry simple syrup. You can use these syrups to flavor all of your favorite beverages all summer long, from coffee to cocktails, to mocktails and more!
Tomato season starts in the heat of the summer, making July the perfect month to start making BLT sandwiches!
While you can find varieties of tomatoes in the grocery store year-round, it's worth hunting out a local farmer's market during tomato season to enjoy the freshest produce at the peak of the season. Summer tomatoes are perfect for making your own quick tomato sauce or even cherry tomato jam!
Watermelon is a symbol for summer! The watermelon season peaks in July and August, meaning now is the time to indulge in all things watermelon.
Watermelon juice is one of the most refreshing summer sips you can have, and watermelon limeade will make you forget all about traditional lemonade during the summer months! If you aren't a fan of your watermelon in a glass, try a simple salad with watermelon, feta, and balsamic dressing!
Mangoes are another prime summer fruit, and they are ready for picking in July! Mango is, in fact, the world's most popular fruit, and it is incredibly versatile.
There are tons of varieties of mango available in grocery stores. Mangoes have a sweet, almost floral flavor. One unique trait about mangoes is that the skin is no indicator of ripeness, and they will continue to ripen after being picked. A mango smoothie is the perfect start to a warm summer day, and a mango salsa is a fun, fruity twist on classic chips and salsa!
💬 Let me know in the comments what July produce you're looking forward to!
While summer is hot, the produce selection available remains to be abundant! Are there any other July ingredients you'd like to know more about?
Let me know in the comments below, and I'll add on to this post! 🥰