With over 10 years of experience in crafting beverages at home, I know what it takes to make a delicious, flavorful beverage. Simple syrups are one of the best ways to incorporate seasonal flavors into your beverages. This blueberry simple syrup is a quick and easy way to mix the fruit flavor of blueberries into all of your favorite drinks, hot or cold!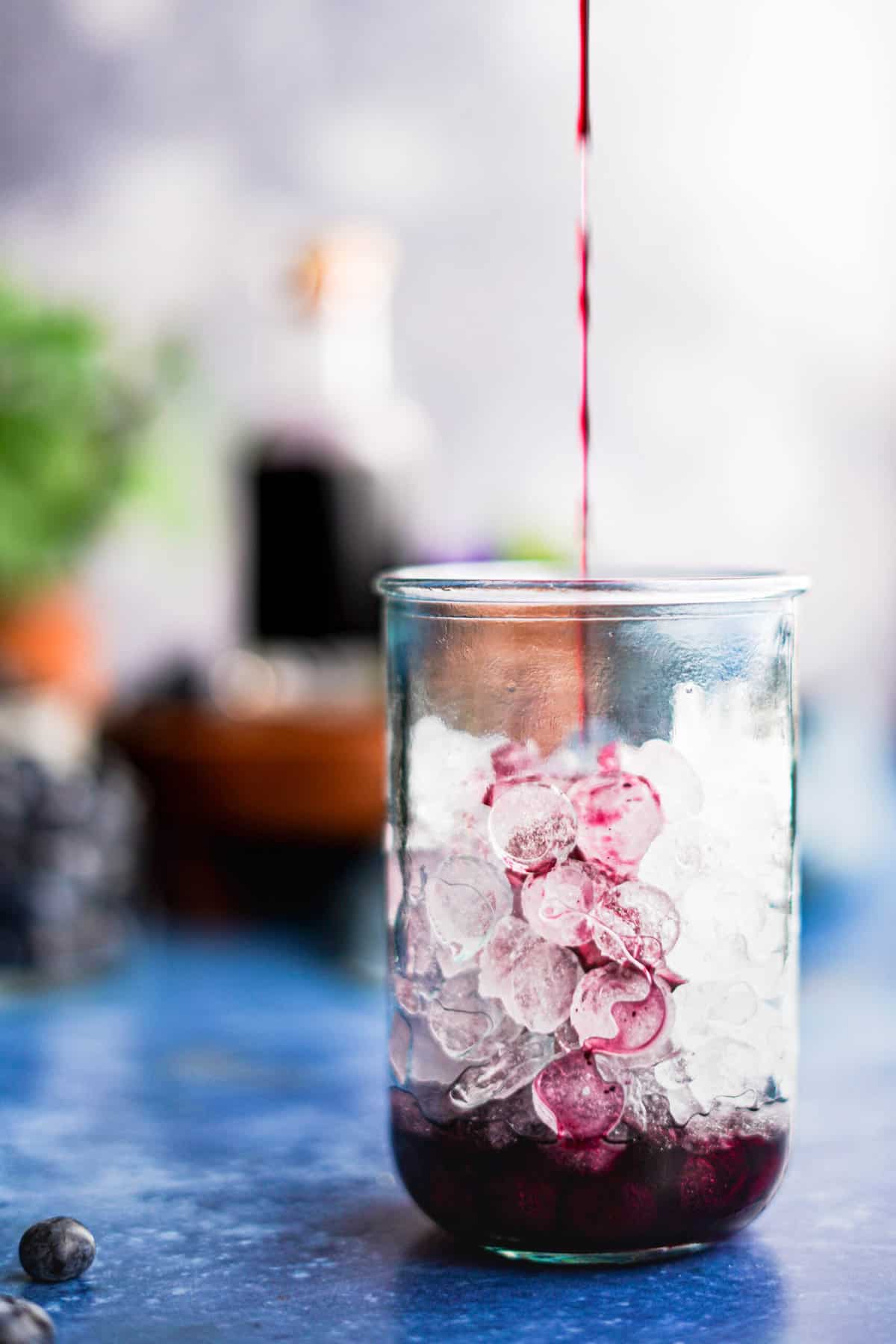 Use this blueberry simple syrup to make homemade blueberry lemonade to share with the whole family. It's especially refreshing in the summertime. You can also use this homemade syrup for blueberry cocktails like this sparkling blueberry vodka lemonade!
Jump to Recipe
Jump to:
💕 why you'll love this blueberry simple syrup recipe
🫐 bursting with berry flavor. Think of every reason you love the flavor of blueberries and imagine being able to squeeze that into whatever drink you like!
🙌 simple technique. This fruit-infused syrup is truly an easy recipe. Once you master the technique, you can make any homemade simple syrup flavor you like!
🤩 impressive & inventive. Get ready to wow your friends and family at your next gathering with your ingenious use of blueberries! You can add this syrup to any beverage you like, from iced tea to cocktails!
What is simple syrup?
A simple syrup is a liquid solution that is equal parts sugar and water, or a 1:1 ratio. You can make a simple syrup using your sweetener of choice, but most often, I use regular granular sugar. You can make a simple syrup infusion (a flavored simple syrup) by simmering an ingredient of your choice in the mixture of sugar and water at low heat for 15 minutes or more.
The longer you simmer, the more reduced your mixture will get, which leads to a thicker syrup. A thicker simple syrup is also known as a rich syrup.
🧐 what is a rich syrup?
A rich syrup is a syrup that has a higher sugar content than water content.
Simple syrup has a 1:1 ratio of sugar to water.
Rich syrup has a 2:1 ratio of sugar to water, so if you use 1 cup of sugar, use ½ cup of water.
This will change the ratio of sugar to water, meaning if you want to freeze the syrup for longer storage, it won't freeze completely solid. This can be useful for quickly defrosting the syrup, though! If you want to freeze rich syrup, opt to use a bottle over ice cube trays because things will get sticky.
🛒 ingredients
Since the recipe has such few ingredients, it's best to source the highest quality ingredients you can find!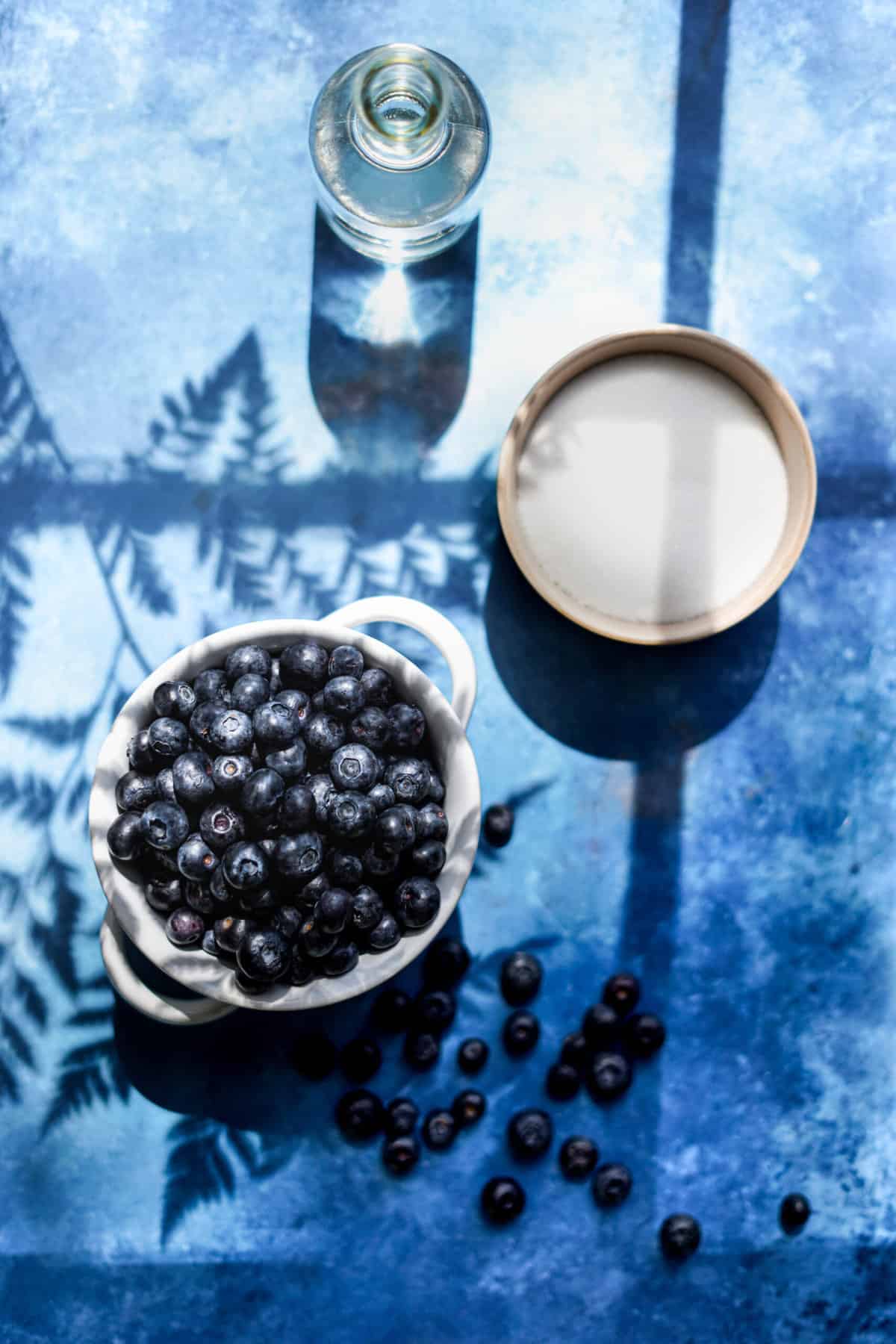 blueberries - this recipe uses fresh berries for maximum flavor, but you can use frozen berries if you can't find fresh ones at your local grocery store. Choose the ripest berries you can find for the best blueberry flavor.

granulated sugar - regular granulated sugar is perfect for simple syrups. It ensures your syrup will be light in color, and have a very pure, sweet taste without hints of nuttiness or caramel. Though you can definitely swap out the sugar for your favorite sweetener of choice, avoid using artificial sweeteners because they can change the final consistency of the syrup.

filtered water - filtered water works best for simple syrups since the water will not be cooking at a rolling boil.

lemon juice - while this is an optional ingredient, I do recommend using it as it helps make the blueberry flavor pop!
🍳 instructions
This simple syrup recipe comes together in under 30 minutes, but you may need more time to cool your syrup before using it.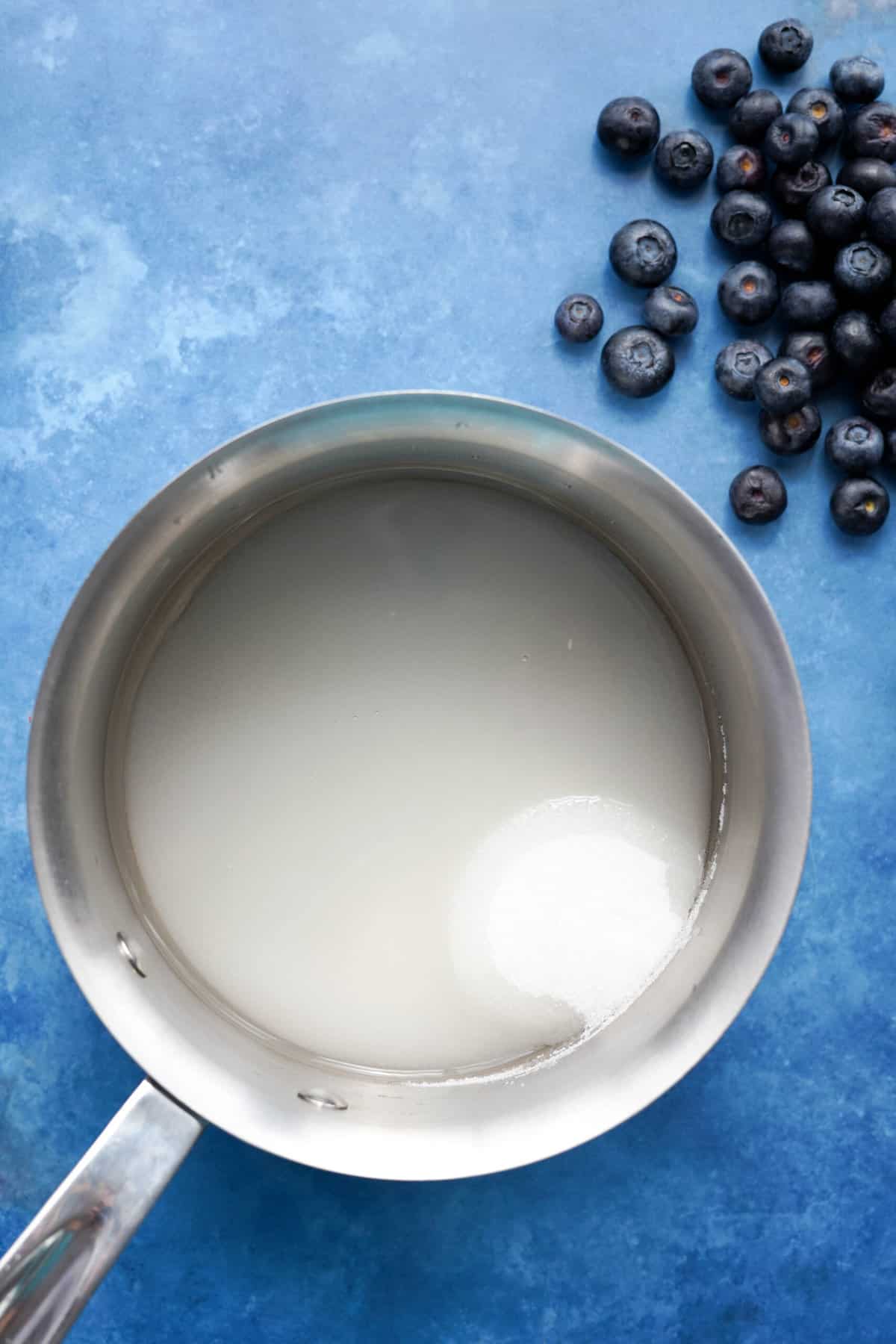 Step 1: Wash your blueberries and set them aside. Combine your sugar and water in a small to medium saucepan over medium-low heat until the sugar dissolves.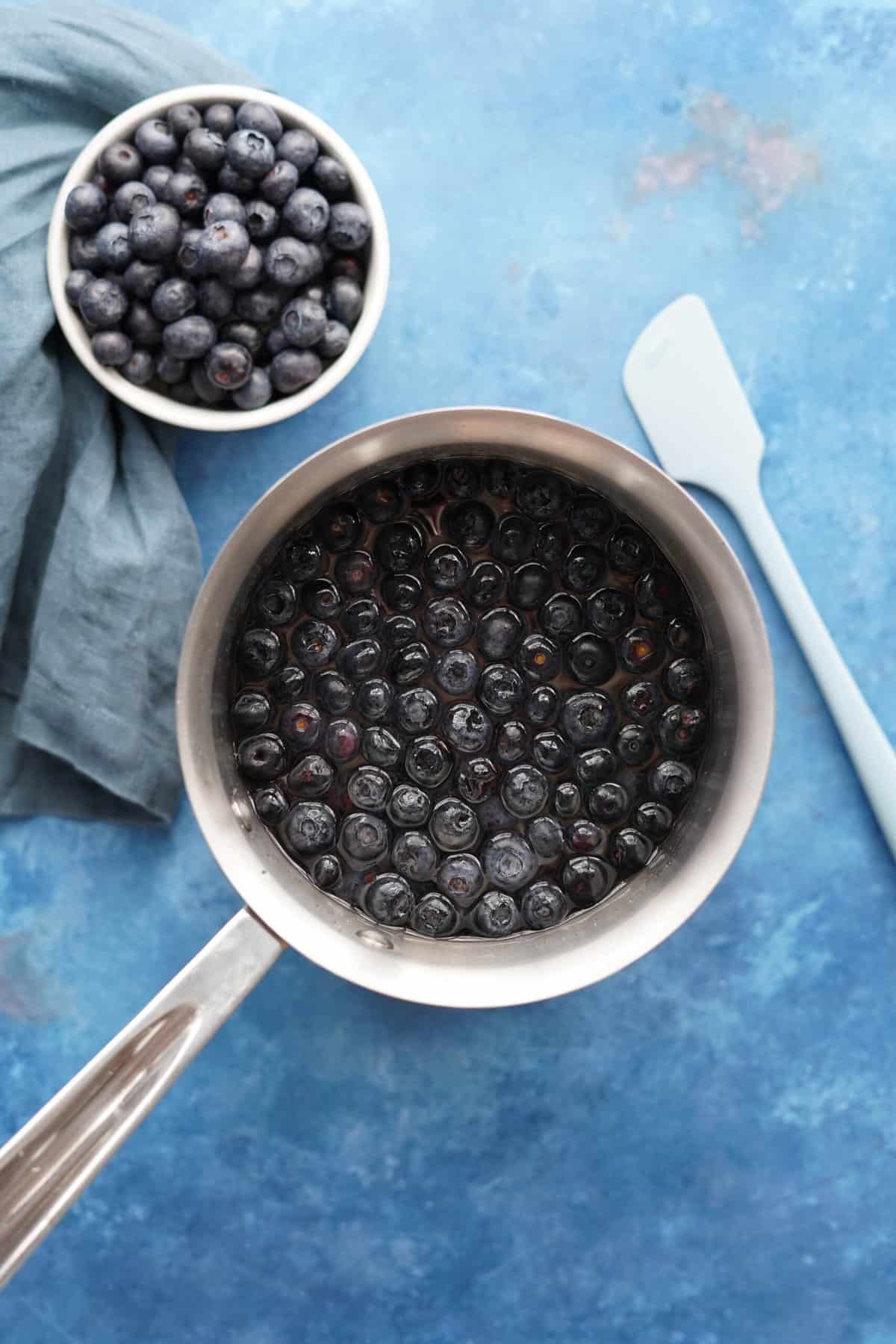 Step 2: Once the sugar has dissolved, add your blueberries and lemon juice (if using) to the sugar water and simmer the mix over medium heat for 15 minutes. The liquid will reduce a bit, that's okay!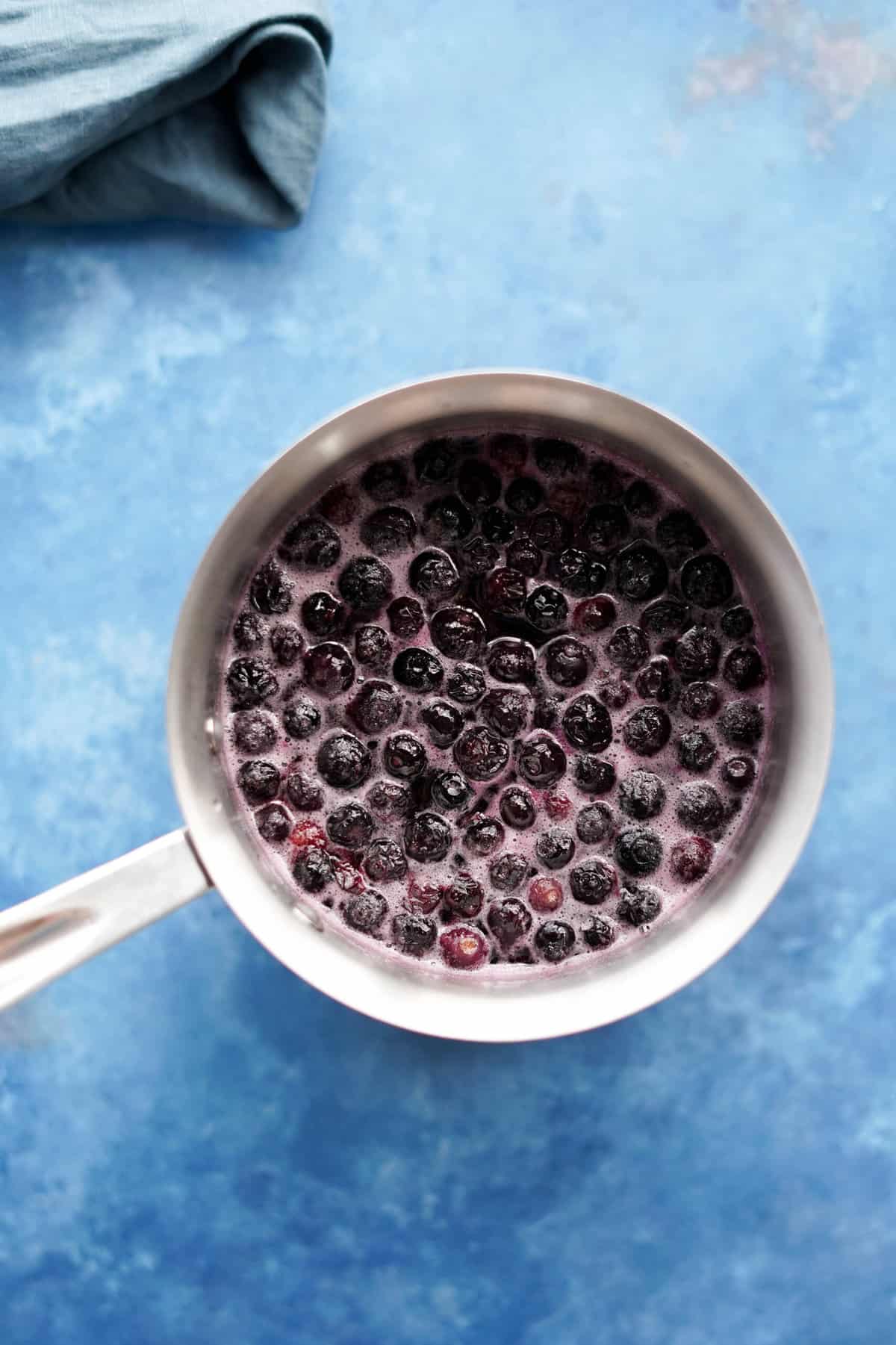 Step 3: Once the berries have simmered, remove the mix from the heat and allow it to cool for a few minutes.
Step 4: Strain the mix through a mesh sieve and store it in an airtight container in the fridge for up to two weeks.
♻️ substitutions & variations
♻️ substitutions
Are you out of an ingredient? Looking for a swap? Here are some tried and true substitutions for you to use!
🎛️ variations
Feeling like a rebel?! 😈 Try one of these variations, or leave me a comment below with your own!
lavender - the addition of lavender (dried or fresh) plays so nicely with blueberries! Just be sure to use culinary grade lavender.

vanilla - add in half of a vanilla pod while the syrup simmers to create a wonderfully comforting blueberry vanilla syrup.

thicker or thinner - adjust the cooking time and water amount to make a thicker or thinner syrup. You can also puree the berries in the syrup to make a thicker sauce!

A quick note: If you do thicken the syrup, it doesn't mix as well into drinks and can tend to settle on the bottom of homemade sodas and stirred cocktails.
📌 how to use blueberry simple syrup
Simple syrups are best used in beverages because they are so thin in consistency. Since it is so thin, it doesn't work well for topping desserts like ice cream or on breakfast foods like waffles and pancakes. You can still use it on food, but just be aware that it will be thin and may soak into porous foods quickly.
Cocktails
Use this in place of regular simple syrup in any cocktail recipe. It works especially well in vodka and gin-based recipes!
sparkling blueberry vodka lemonade - a classic summer beverage gets a sparkling makeover with this creative cocktail.
blueberry lemon drop martinis - make a flavorful martini using this syrup, vodka, and lemon juice!
blueberry mojitos- berries and mint work very well together! Use your syrup to give a blueberry twist to this classic rum cocktail!
Non-Alcoholic Beverages
You can also use this liquid sweetener to add fruity flavor to non-alcoholic beverages and mocktail recipes! I love using it in iced coffee.
blueberry lemonade - add this simple syrup to a lemonade recipe instead of granulated sugar for a berry twist!
homemade blueberry soda pop - simple syrup + soda water = homemade blueberry soda!
blueberry lattes - add in blueberry syrup to your morning latte for a delightful pick-me-up.
blueberry iced tea - the flavor of blueberries pairs so well with green tea or black tea.
Cooking and Baking
Keep baked goods moist: Use this simple syrup to brush layer cakes and keep them moist between layers! This blueberry syrup would pair great with lemon cupcakes and vanilla cakes!
Homemade shave ice topping: This syrup works very well as a homemade shave ice topping.

Make extra as gifts: Buy a set of 8-ounce glass bottles and make a double or triple batch of this syrup to gift to family and friends! It also makes a great hostess gift or party favor!
💡 tips and tricks for getting it right
ℹ️ Troubleshooting Tips -If you allow your syrup to cook for longer, it will be thicker, like a rich syrup, and the flavor will be more intense. It will also be considerably sweeter and may not mix as easily into cold beverages with just a spoon. Thicker syrups are great for using on desserts, though! Depending on how you plan to use the syrup, how you cook it could change.

⚖️ Scaling Tips - This recipe can easily be doubled or tripled to make a large batch, perfect for gifting to family and friends. If you double the recipe, be sure to use a larger pot so you have room for the ingredients!
🔆 top tip
Try freezing simple syrups into smaller squeeze bottles for whenever the mood strikes! It's a great way to keep flavorful syrups on hand throughout the year!
🧰 equipment needed & storage tips
🧰 tools needed
🫙 storage
Store your blueberry syrup in the fridge in an airtight container for up to two weeks. You can also freeze your syrup for longer storage.
Check out this post to learn all about freezing your simple syrups!
💬 q+a
How can I use this blueberry simple syrup?
You can use this syrup however you like! I love using it in my morning iced coffee, or mixed into seasonal drinks or cocktails. You can even add it to plain soda water or sparkling water for a homemade blueberry soda!
How long does the blueberry syrup last for?
Your syrup will keep in an airtight container in the fridge for up to two weeks, or you can freeze it for up to three months.
Do I need to refrigerate the syrup?
Yes. This syrup stores best in the fridge. Do not leave your simple syrup out for longer than 3-4 hours at room temperature.
Can I use frozen blueberries to make this recipe?
Yes! You can substitute frozen berries instead of fresh ones, so you can make this syrup even when blueberries aren't on sale or in season.
If you make this recipe, please leave a review in the comments and a star rating!
⭐️⭐️⭐️⭐️⭐️
I read every single comment! I also love connecting on social media, so snap a pic and hashtag it #myrecipeforfun and tag me on Instagram, TikTok, or pin this recipe on Pinterest!
🥣 recipe
Blueberry Simple Syrup
Discover the sweet taste of summer berries with this quick and delicious blueberry simple syrup recipe! Use it in any of your beverages, from coffee to cocktails!
Print
Pin
Rate
Equipment
1 storage container

measuring cups
Ingredients
148

g

blueberries

fresh or frozen, washed if fresh (1 cup)

200

g

sugar

granulated (1 cup)

236

g

water

filtered (1 cup)

1

tablespoon

lemon juice

fresh squeezed, optional
Instructions
Wash 148 g (1 cup) of fresh blueberries and set them aside.

In a small saucepan, combine 200 g of sugar (1 cup) with 236 g of water (1 cup) and heat it over medium-low heat until the sugar dissolves, about 3-5 minutes.

Once the sugar is dissolved, add in the 148 g (1 cup) of blueberries and 1 tablespoon of fresh squeezed lemon juice (if using) and simmer over medium heat for 15 mintes. If you want your syrup to be thicker, simmer it for a bit longer, up to 30 minutes, until more water reduces.

Allow the mixture to cool slightly, then strain through a fine mesh strainer to remove the berries.

Store your simple syrup in an airtight container for up to two weeks in the fridge, or freeze for longer storage.
Nutrition
Nutrition Facts
Blueberry Simple Syrup
Amount per Serving
% Daily Value*
* Percent Daily Values are based on a 2000 calorie diet.
🧯food safety
Food safety is an important ingredient in any recipe for success! Here are some tips to keep you safe in the kitchen!
While you can allow this syrup to sit at room temperature, don't leave it out for longer than 4 hours at a time. This helps to inhibit bacteria growth that can happen from the sugars in the syrup. Read more about the temperature danger zone here.

Use sterilized containers whenever possible. You can sterilize your containers by boiling them briefly, running them through your dishwasher with the sterilize feature activated, or pouring boiling water into the containers.

While you may be able to use your simple syrup longer than 2 weeks in the fridge, if you see any sort of cloudiness or dark spots in the syrup, throw it out. This is mold growth and is not a recipe for fun.

Never leave simmering syrup unattended on the stove.

If you use honey to make this syrup, avoid feeding it to children under the age of 1.