If you're a fan of pumpkin-flavored coffee, this recipe is for YOU! These iced pumpkin spice latte coffee cubes are the perfect answer to the store-bought PSL. The best part is they can be made ahead or in bulk and stored in the freezer so that you can enjoy iced pumpkin-spice lattes all season long!
Jump to Recipe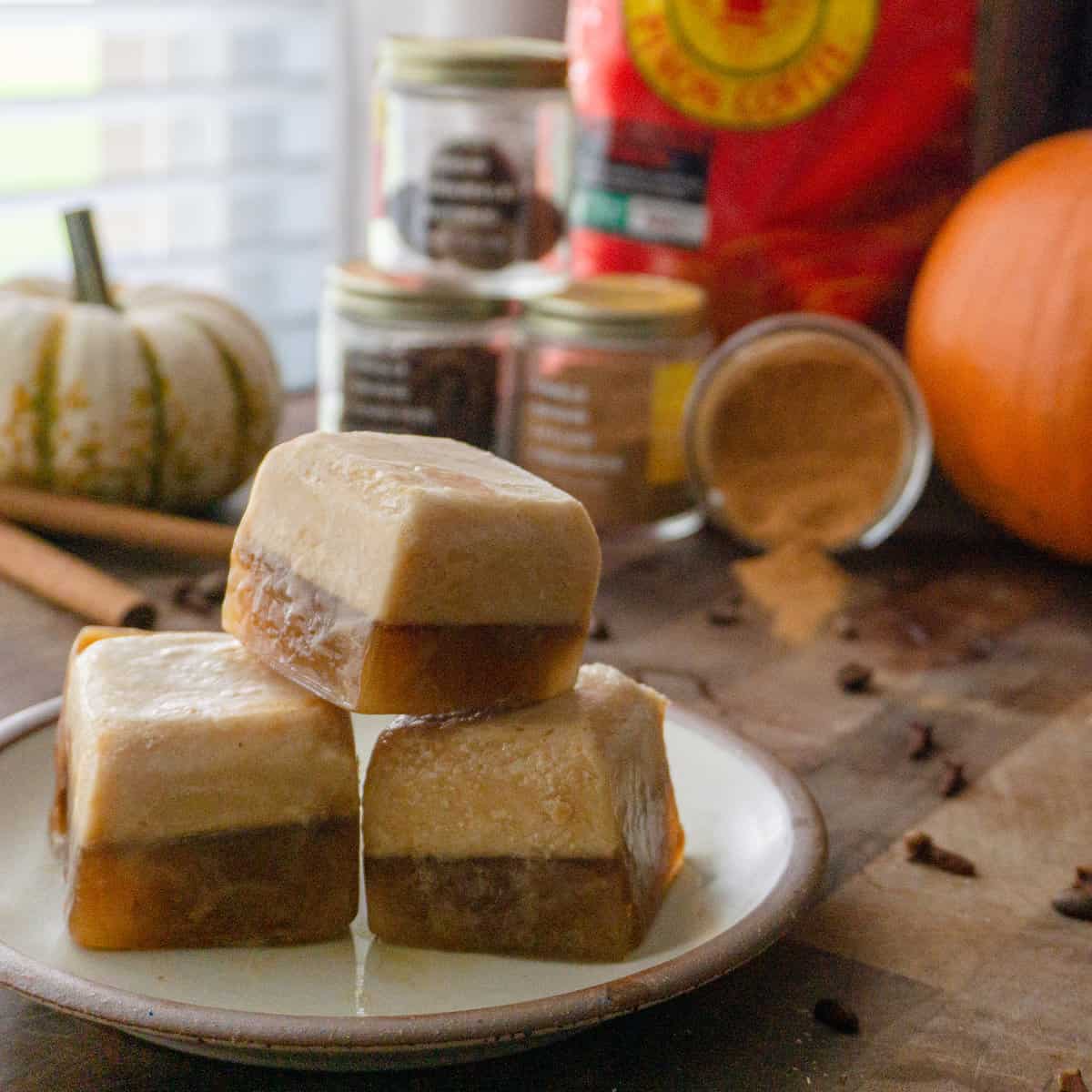 This recipe was inspired by my espresso ice cubes, but they've got a PSL-twist! While I am a big fan of the Starbucks pumpkin cream cold foam, the cost of those drinks stacks up. Not to mention, the sugar content of the beverage is about as much as a small pile of Halloween candy! 🫣
💕 why you'll love this iced pumpkin spice latte cubes
🎃 fall forward flavors. These iced coffee cubes are packed with pumpkin spice latte flavor!
☕️ a jolt of java. This recipe includes cold brew coffee, so it delivers a dose of caffeine for those busy mornings!
🧊 make-ahead magic. You can prepare a large batch of these pumpkin-spiced ice coffee cubes and stash them in your freezer for up to three months!
🛒 ingredients
sweetened condensed milk - If you've ever had Vietnamese coffee with sweetened condensed milk, you know what true happiness tastes like. Sweetened condensed milk adds a sweet and creamy punch to the coffee.

pumpkin puree - make sure you use pumpkin puree, not pumpkin pie mix. If you do use pumpkin pie mix, make sure to skip the additional spices, as they are already in the canned pie mix.

pumpkin pie spice mix - this special mix of autumnal spices is available premade, but you already know ya girl has a blend of Diaspora Co. Spices ready for you. 😛 They are a bit more expensive than grocery store spices, but they are single-origin spices that are changing the game! A mixture of cinnamon, ginger, nutmeg, cloves, and cardamom come together to make a warming spice blend sure to evoke autumn in any dish!

vanilla extract - no baked good is complete without adding vanilla extract. Even though we aren't baking anything here, we are emulating the flavors of a just-baked pumpkin pie in these coffee ice cubes. Use a nice quality vanilla extract for the best flavor.

milk - while I use oat milk in these pumpkin spice iced coffee cubes, you can use another dairy free milk or fat-free milk. I recommend using low-fat milk or dairy alternatives. The high fat content of the sweetened condensed milk needs to be balanced out with the milk you use so that the cubes will freeze solid.

cold brew coffee - the less acidic flavor of cold brew coffee makes the perfect flavor base for these flavored coffee cubes! I love this piñon pine coffee that used to exclusively be at Trader Joe's, but is now available on Amazon! The toasty flavor to it pairs perfectly with the fall spices! You can 100% use regular coffee or espresso. Make sure whatever coffee you is cooled by the time you're ready to layer it into the ice cube trays.
🍳 instructions
These iced coffee cubes come together quickly. It's really just a matter of waiting for the separate layers to freeze.
Step 1: Pour 4 ounces of sweetened condensed milk into a large mixing or measuring glass.
Step 2: Add the pumpkin spice mix and vanilla extract to the mixing glass.
Step 3: Add the pumpkin pureé to the mixture.
Step 4: Stir well to combine all of the ingredients.
Step 5: Pour in the oat milk or the non-fat milk of your choice, and mix everything once more.
Step 6: Fill large king-sized ice cube trays half full with the pumpkin spice mixture.
Step 7: Cover your ice cube trays and place in the freezer to harden, for at least 4-6 hours.
Step 8: Layer your prepared coffee over the frozen pumpkin spice layer, filling up the rest of the ice cube trays. Return the trays to the freezer until they are completely solid.
Step 9: Once frozen, remove the cubes from the ice cube tray. This may take a little elbow grease!
Step 10: Store your iced pumpkin spiced latte coffee cubes in a zip-top bag in the freezer for up to three months!
💡 tips and tricks for getting it right
🍽️ Serving Tips - Sweetened condensed milk combines with pumpkin puree and seasonal spices to create a pumpkin pie-like flavor for the base of these cubes. The coffee layer creates a visually stunning juxtaposition that is sure to impress! To serve coffee with these cubes, pour over your favorite hot or iced coffee, about 2 ounces per cube.

ℹ️ Troubleshooting Tips - be careful to use a non-fat milk to mix with your sweetened condensed milk. If the fat content of the pumpkin spice base is too high, it won't freeze solid.
You can always give the base a little taste test to see if you like the balance of flavor before freezing.
Sweetened condensed milk is very sweet, so make sure not to add additional sugar, like with pumpkin pie mix. If you do use pumpkin pie mix, use evaporated milk to balance out that sugar content.

⚖️ Scaling Tips - this recipe is easily scaled up for parties or gatherings. You'll need more ice cube trays, but these cubes would be perfect for a fall brunch party!
🔆 top tip
While you could probably manage to make these within 24 hours, I like to take two days, freezing both layers overnight.
♻️ substitutions
Are you missing an ingredient? No problem. Check out these tried-and-true substitutions, or comment below with your question. I'm here to help you troubleshoot!
espresso or strong coffee - you can use any kind of coffee you have on hand. It doesn't need to be cold brew! Just make sure to let any hot coffee or espresso cool completely before using.

Dairy-free sweetened condensed milk - no worries if your diet doesn't include dairy! You can use sweetened condensed milk that is made from coconut. This one from Let's Go Organic is a great option.

milk - you may use any dairy alternative milk you like, or any dairy milk for that matter. Just be sure that the fat content is relatively low, as this can affect the freezing of the cubes.

evaporated milk - you can swap evaporated milk for sweetened condensed milk, but your cubes will not be sweet. This is a great option if you don't like sweeter coffee beverages. You can also add a few tablespoons of dark brown sugar simple syrup to sweeten the pumpkin spice mixture if you do use evaporated milk and want a little sweetness.
🎛️ variations
Feeling like a rebel?! 😈 Feel free to stray from the recipe card using these variations, or leave me a comment with your own!
layer the cubes more than once - you can make as many layers in these cubes as you like, you'll just need to freeze each layer between pours. A lot of thinner layers would make for a showstopping cube!

caramel - use evaporated milk and add caramel sauce to it to give these PSL cubes a caramel twist!
🧰 equipment
🫙 storage tips
Store these iced pumpkin spice latte cubes in a zip-top bag in the freezer for up to 3 months.
💬 q+a
How long can I store these iced pumpkin spice latte cubes for?
You can store them for up to 3 months in your freezer... if they last that long!
How do you use iced coffee cubes?
Place them in a glass and pour your favorite iced coffee or cold brew coffee over them! You can also pour hot coffee over them, or espresso...or a cocktail...😛
How long does it take to make iced coffee cubes?
It'll take at least 8 hours of freezing time, but it could take up to 12. Making these layered cubes takes a little longer. Budget yourself at least two nights of 8-12 hours of freezing time for the two layers in these cubes.
Can I use evaporated milk instead of sweetened condensed milk?
Yes! You can use evaporated milk in place of sweetened condensed milk. You may want to add some sweetener, like brown sugar simple syrup, to add some sugar to the base since there is no sugar in evaporated milk.
Can I use pumpkin pie mix to make these iced pumpkin spice latte coffee cubes?
Yes, you can, but make sure to use evaporated milk instead of sweetened condensed milk. The pumpkin pie mix contains sugar, so you won't need additional sugar from the sweetened condensed milk.
🍽️ recipe
If you make this recipe, please leave a review in the comments and a star rating!
⭐️⭐️⭐️⭐️⭐️
I read every single comment! I also love connecting on social media, so snap a pic and hashtag it #myrecipeforfun and tag me on Instagram, TikTok, or pin this recipe on Pinterest!
🥣 recipe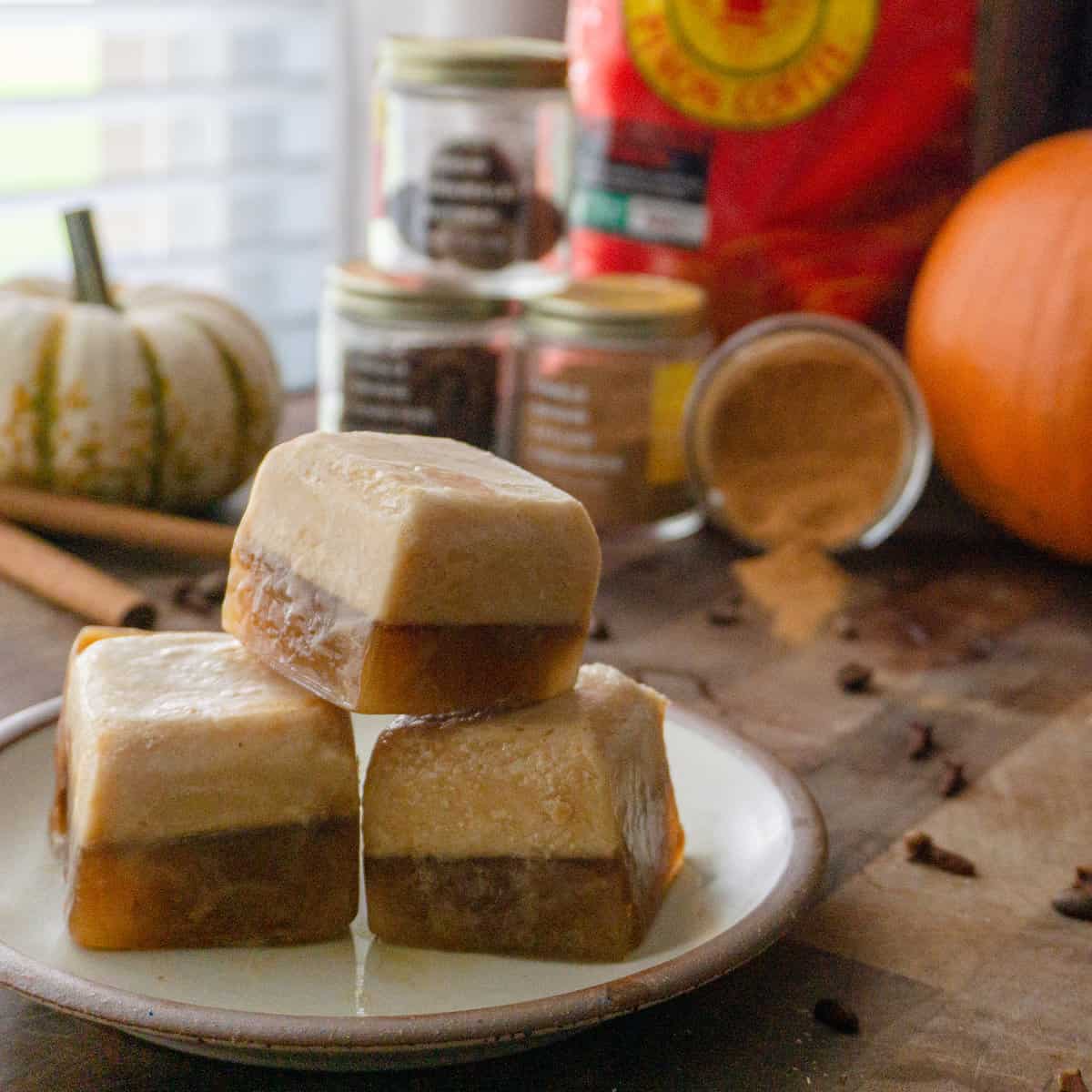 Iced Pumpkin Spice Latte Coffee Cubes
These iced pumpkin spice latte coffee cubes will save you a trip to your local barista in the morning and bring the fall flavors straight to your kitchen!
Make sure to use a low-fat milk of your choosing so that your pumpkin spice mixture fully freezes solid!
Print
Pin
Rate
Servings:
12
king-sized cubes
Equipment
2 King-Sized Ice Cube Trays
Ingredients
Pumpkin Pie Spice Mix
2

tablespoon

cinnamon

2

teaspoon

ginger

2

teaspoon

cloves

2

teaspoon

nutmeg

½

teaspoon

cardamom
Pumpkin Spice Layer
4

oz

sweetened condensed milk

⅓

cup

pumpkin pureé

can also use pumpkin pie mix, but your mix will be sweeter.

1

teaspoon

pumpkin pie spice mix

see recipe above

1

teaspoon

vanilla extract

8

oz

oat milk

may use alternative milk of choice, or other low-fat milk
Coffee Layer
8

oz

cold brew coffee

may use cooled espresso
Instructions
Pumpkin Pie Spice Mix
Combine all spices in a small bowl.

Store in a cool dry place for up to 6 months.
Pumpkin Spice Coffee Cubes
Combine the sweetened condensed milk, spices, pumpkin puree, vanilla extract, and oat milk. Pour into ice cube trays, filling half-way (of ¼ of the way if you prefer a less-sweet/flavored coffee!)

Freeze the pumpkin spice mix for at least 4 hours or until set, but preferably overnight.*

Once the pumpkin mix is frozen, fill the ice cube trays the rest of the way full with your cold brew coffee or cooled espresso.

Return to the freezer until set, at least 4 hours, but preferably overnight.

Pop the cubes out and store them in a zip-top bag. When it's time for your morning coffee, just place a pumpkin spice coffee cube in your cup and pour your coffee overtop it!
Notes
*Make sure to use a low-fat milk option so that your pumpkin mix sets up properly in the freezer. Because of the fat and sugar content of sweetened condensed milk, it does not fully freeze on its own. Mixing in a low-fat milk alternative like oat milk helps ensure that the mixture will fully harden once frozen.
**You CAN use pumpkin pie mix instead of pureed pumpkin. Your end result might be a bit sweeter, though! In this case, mix together the sweetened condensed milk and pumpkin pie mix first, then give the mix a little taste to see if you need to add more spices.
Nutrition
Nutrition Facts
Iced Pumpkin Spice Latte Coffee Cubes
Amount per Serving
% Daily Value*
* Percent Daily Values are based on a 2000 calorie diet.